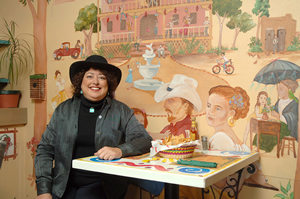 Superdelegate Debbie Marquez may have a big impact on the choice of this year's Democratic nominee to the presidency at the Democratic National Convention in Denver, Aug. 25-28. The Edwards resident, shown at her restaurant, Fiesta's Café and Cantina, has pledged her vote for Barack Obama.

Vail Valley Superdelegate says 'No' to Bill Clinton, pledges for Obama
Marquez in the spotlight as one of 15 Colorado Superdelegates
By Tom Boyd
February 28, 2008 — Unraveling the complexities of the Democratic Party's nomination process is like unraveling a string of tangled Christmas lights: it takes forever and each luminary requires special attention.


One of the party's bright lights in Colorado is Debbie Marquez, of Edwards, who is one of 15 Superdelegates in Colorado – and her vote at the Democratic National Convention may be one of the things getting in the way of Hillary Clinton's aspiration to the nomination.


Marquez has pledged her vote to Barack Obama, raising the ire of the Clinton campaign and former president Bill Clinton.


Clinton called Marquez personally in early February, just before Colorado's caucus, to encourage her to support his wife. He wasn't aware, until Marquez informed him, that her vote was already pledged for Obama.
Colorado's Superdelegates
Democratic Superdelegates are people who are leaders in the Democratic Party, such as members of Congress, Democratic governors, and members of the Democratic National Committee. Colorado has 15 such Superdelegates, who are all guaranteed a vote at this year's Democratic National Convention in Denver, Aug. 25-28.
If Sen. Hillary Clinton does well in Texas and Ohio, the nomination could be decided by Superdelegates, who can change their vote at any given time. (Pledged delegates, who are vetted by the caucus and assembly process, can also change their vote, but are less likely to do so because, by the time they reach the National Convention, they have repeatedly voted in favor of their candidate.)
Colorado has 15 such Superdelegates, and though the pledge process is fluid, the following is a list of the delegates and where they stand as of now.
Obama:

Congressman Ed Perlmutter

Dan Slater, Colo Dem Party 1st Vice-Chair

Debbie K. Marquez, Colorado DNC

JW Postal, Colorado DNC
Clinton:

Congresswoman Diana DeGette

Mannie Rodríguez, Co DNC

Ramona Martinez, Co DNC – At Large appointed by Howard Dean

Maria Handley, Co DNC – At Large (appointed by Howard Dean)
Undeclared:

US Senator Ken Salazar

Congressman Mark Udall

Congressman John Salazar

Former Gov. Roy Romer (DNC member as past DNC Co-Chair)

Governor Bill Ritter

Pat Waak – State Party Chair
"I consider (my talk with Bill Clinton) as personal, but in general it was very uncomfortable to have to talk to your former president and say, 'I'm not going to support your wife,'" Marquez said. "A lot of people do admire Bill Clinton and felt that he did a lot of good for us in many ways, and he is a very charming, charismatic person. I have had occasion to meet him a couple of times even before I was on the DNC, so it was very difficult."
Marquez was one of the first Hispanics to become an elected member of the Democratic National Committee in 2004, when she went to Boston to support Howard Dean's effort to become DNC chairman.
Clinton has polled well among Hispanics, especially in Texas. A Latino Decisions Texas Poll from Fox Business, taken Feb. 26, reported that Clinton was the choice of 62 percent of self-identified Democrats and Democratic-leaners, Obama had 22 percent while another 15 percent remain undecided.
Marquez' pledge for Obama is a sign that the Hispanic vote, and Hispanic society, remains complex and non-uniform.
"There's no question that I feel that our Democratic representation in the Senate and the House let us down, because they did get us into the war and Senator Clinton was one of them," Marquez said.
"It's hard for me to understand that I, as a well read activist, sitting at my restaurant and talking to customers and saying there are no WMD's, and I read about it in Mother Jones Magazine, and other things … I don't have a lot of sympathy for those who supported the war when Joe Citizen knew better," she said.
Marquez said as much to former President Clinton during her more than 45-minute long conversation with him, she said.
The role of a Superdelegate
Marquez original supported New Mexico governor Bill Richardson, but pledged publicly for Obama Feb. 1 of this year. Her pledge came four days before Colorado's Democratic voters had their say during the Colorado Caucus.
Colorado, which will host the Democratic National Convention in Denver Aug. 25-28 of this year, came out in strong support of Obama. He won 66 percent of the vote to Hillary's 32 percent. Obama won Eagle County with even stronger numbers, 72.1 percent to 26.1 percent.
These numbers leave Marquez in a comfortable position: she is backing the choice of the pledged delegates elected at the caucus. But what if the vote had gone the other way, and Eagle County – and Colorado for that matter – chose Clinton? Superdelegates wield notable voting power in a nomination contest as close as this one, and some are calling for Superdelegates to pick according to the wishes of their voting public, rather than making up their own minds.
"That's a really hard question for me," Marquez admits. "I don't know where I would be, honestly, but I think it would be really hard for me to support Senator Clinton because of her war stance."
Marquez, it seems, is ready for change – and she sees Obama as the candidate who can deliver such change.
"It's the right timing, we were set up, we've been lied to, our constitution has been shredded," she said. "This isn't just about the president."
Marquez sees a resurgence in the Democratic party at all levels – from the highest offices to the smallest. After a decades-long service to the Democratic party in Eagle County, which began when Democrats were a miniscule minority in Eagle County, Marquez said she's very happy with the way things seem to be heading in Eagle County, Colorado, and the election in general.

2 Comments on "Vail Valley Superdelegate says 'No' to Bill Clinton, pledges for Obama"