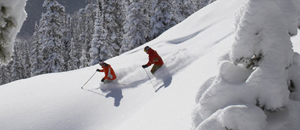 Vail Resorts is offering a five-mountain, unrestricted season pass for $579 between now and Nov. 15.
Photo courtesy Jack Affleck/Vail Resorts
Vail announces unrestricted ski pass available for $579
Epic Season Pass will be valid at all five VR resorts, all year long
By realvail.com
March 18, 2008 — The term "epic" has been used by skiers and snowboarders for a generation, and while it usually describes the best ski day of the year, it now has a new application: the Epic Season Pass.


Vail Resorts announced today the creation of the Epic Season Pass, a new unlimited, unrestricted season pass that's valid for the entire 2008-2009 ski and snowboard season at all five Vail Resorts ski and snowboard properties: Vail, Beaver Creek, Breckenridge, Keystone and Heavenly, all for an initial price of $579.


"Vail Resorts' new Epic Season Pass is a groundbreaking initiative that will completely change how our guests experience their ski and snowboard vacations," Rob Katz, chief executive officer of Vail Resorts, said in a release. "No one will be able to out-ski this pass."
The pass is likely to be attractive to those who ski more than five times a year, including Front Range skiers who come to Vail on the weekends.
(Editor's note: RealVail has made calls to Vail Town Council members and Vail Resorts to discover how this new pass, which is likely to be a big seller, may affect logistics and parking at Vail and its sister resorts. Check back in this space for updates…)
"We designed the new Epic Season Pass program to reward our most loyal guests and to bring greater excitement to the sports of skiing and snowboarding," Katz said in the release. "Vail Resorts' new Epic Season Pass gives our guests the opportunity to ski or ride when they want, how they want. They can visit for a week-long vacation during the holidays and then decide later in the season to return for an extended weekend getaway or even to book a last-minute trip after hearing about one of Colorado's or Tahoe's epic snowfalls. They can ski all day or just for an hour. In essence, we're taking the thought out and putting more fun into a ski vacation."
According to Katz, Vail Resorts modeled the Epic Season Pass on the very successful Colorado and Summit pass programs offered on-site in the Colorado market and the Heavenly Pass program offered on-site in the Tahoe and San Francisco markets.
In addition to the ski and ride benefits, purchasers of the Epic Season Pass will receive exclusive offers and promotions for lodging, dining, ski rental and ski school. The pass will also have a unique, one-of-a-kind design.
The Epic Season Pass is priced initially at $579 for adults and $279 for children ages 5-12. The Epic Season Pass will be valid for the 2008-2009 ski season and will only be available for purchase through Nov. 15, 2008. The Epic Season Pass will earn points in the Company's PEAKS loyalty programs and is non-transferable and non-refundable.
For more information or to purchase a $579 Epic Season Pass online, visit www.epicpass.com.

Comment on "Vail announces unrestricted ski pass available for $579" using the form below