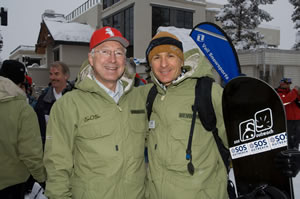 Arn Menconi, right, with Sen. Ken Salazar at Vail earlier this season, lost his bid to be Eagle mayor last week, firing up some local Republicans.
By Dan Davis
trekkerphoto.com
Eagle County Republicans look to recapture former glory
Controversial commissioner's loss in mayor's race seen as sign of turning tide
By David O. Williams
April 7, 2008 — The loss last week maverick Democrat Arn Menconi in his bid for mayor of Eagle has reinvigorated Eagle County Republicans, who say the tide is turning back in their direction after two dispiriting election cycles in 2004 and 2006.

When Democrats claimed all three county commissioner seats in Eagle County in 2006, it sent shockwaves through the local Republican Party. Home to Vail and Beaver Creek ski areas, Eagle County has always trended far more conservative than its ski-town rival of Aspen.

Leading the liberal charge since 2000, Eagle County Commissioner Arn Menconi has made himself into the whipping boy for the local GOP by championing causes such as government-subsidized worker housing, open-space acquisition and more taxes for social programs – all issues that have irked many local real estate developers.

Menconi drew criticism for seeking the mayor's office, which he lost April 1 to unaffiliated candidate Ed Woodland in a record turnout by a margin of 734 to 126, without resigning as a commissioner - something his research indicated was legal. He is term-limited and leaves his county post at the end of the year, but says the race to replace him and fill one other commissioner seat will be ugly.

Gordon to challenge Runyon
Mark Gordon, a Democratic Vail councilman who announced Monday he'll challenge Eagle County Commissioner Peter Runyon in the primaries, says the local party needs to aggressively address the issues in order to maintain its majority on the board of county commissioners. 

"The Republicans have been controlling the rhetoric in Eagle County, bucking the national trend where we know that it's a waning brand that no one wants to be associated with, and what I'm hoping for in order to gain the rhetoric back is a vigorous primary campaign where the Democrats can be discussing all the positive attributes of county government and how it can have a positive impact on the lives of people who live and work here," Gordon said.

Runyon was picked by the local party at the county assembly. Gordon must petition his way onto the primary ballot with at least 130 signatures of registered voters.

"I would back Peter with everything I've got, and so would the party," Eagle County Democratic Party co-chair New New Wallace said. "We think he's done a great job for the county."
"There are people who are running for county commissioner who are right-wing conservatives trying to cloak  themselves as moderates, running on the tax issue and claiming that we're tax-and-spend liberals," Menconi said. "This campaign is going to be absolutely, pathetically immature - condescending, corrosive and disingenuous to everything that is about building community."

The founder and director of a national nonprofit ski and snowboard program for at-risk youth, Menconi twice has been the target of failed recall bids – once for declining to sign a county resolution in support of President Bush in the wake of 9/11 and once for voting to use the county's general fund to pay for an early childhood education program after voters rejected a tax increase to pay for it.

Lately, he's been the target of heated criticism from a taxpayer rights group livid over the commissioners' refusal to lower the mill levy in the face of a more than 40 percent increase in property taxes because of skyrocketing property values. The commissioners argued they need the extra revenue to pay for services and infrastructure in a county saddled with runaway growth.

Menconi says the controversy was one of the reasons he was shellacked last week in his run for mayor of the county seat of Eagle. Other observers say that bid to hold two elected offices simultaneously also likely hurt him.

Former Eagle mayor Jon Stavney, a Democrat who's running for Menconi's county commissioner seat against former Republican Avon councilwoman Debbie Buckley, said in a column in the Vail Daily Monday that Menconi "overreached" by running for mayor without resigning his county post. He also said Woodland was a good candidate who ran a great race.

"Woodland did not run on a party platform; he ran on a community platform," Stavney wrote. "Woodland's victory is a victory for the people of Eagle, nor for the Republican Party."

Based on comments and letters in the local papers, Republicans view Menconi's decisive defeat as a sign the tide has turned in Eagle County, where there are 6,000 registered Republicans, 5,000 Democrats and 8,300 independents. The local GOP hopes it can reclaim Menconi's seat and oust Democrat Peter Runyon for a second seat on the county board in the November general election. Republican Dick Gustafson, a former county commissioner, is seeking that seat.

But New New Wallace, co-chair of the Eagle County Democratic Party, says Menconi's defeat in the mayor's race will have absolutely no effect on how other Dems fare in November.

"For the Democratic Party I think there's zero impact," Wallace said. "I think it was a wholesale dismissing of Arn Menconi, and I think it was across the board. What we have in this county, unfortunately, is an extremely destructive and angry little mob on both sides. (County politics are a) nonpartisan issue, but the radical right and the radical left are not in the best interest of getting things done."

Menconi rejects such sentiment, saying that in an election year when Democrats across the nation are destined for sweeping victories, the local party should not be moving to the middle but should be pushing even harder for social justice in a place with such a wide disparity between the working class and the uber-rich.

"On a local level they should take a certain sense of resolve that this is what's happening on a national level," Menconi said. "You can't make a decision and not make an enemy; it's absolutely impossible. You can be popular, but you don't get anything done."

He adds that division among Democrats plays right into the hands of emboldened local Republicans: "They must be reading the paper today gloating that the local Democrats are throwing each other under the bus. As Lyndon Johnson said, 'The Democrats circle the wagon train and start shooting at each other.'"

Don Cohen, a Republican who heads up the Economic Council of Eagle County, says he's a moderate who's been disenfranchised from the local party because of its attack-dog tactics.

"I think our county Democrats don't understand that they're not in a fair fight, because they're way too nice," Cohen said. "My theory of this is that when Arn disappears off the political screen the Republican vitriol will disappear because they're not going to have a rallying cry anymore."

Randy Milhoan, chairman of the Eagle County Republican Party, doesn't view Menconi's defeat in the mayor's race as a sign of a looming slam dunk in the November election.

"A lot of it was just a backlash against Arn," Milhoan said. "He has a strong personality, and (the mayor's race) just happened to coincide with this taxpayer's revolt. And Ed Woodland was a pretty good candidate, pretty reasonable and not fanatical one way or another. The Democrats are still going to be hard to beat, and a lot of Democratic money is coming into a lot races up here in the northwest part of the state."

Also in the April 1 Eagle election, which saw a record turnout in excess of 900 voters, Yuri Kostick won a town board seat with 489 votes; former mayor Roxie Deane is back on the board with 471 votes; and incumbent Kraige Kinney was reelected with 376 votes.


2 Comments on "Eagle County Republicans look to recapture former glory"