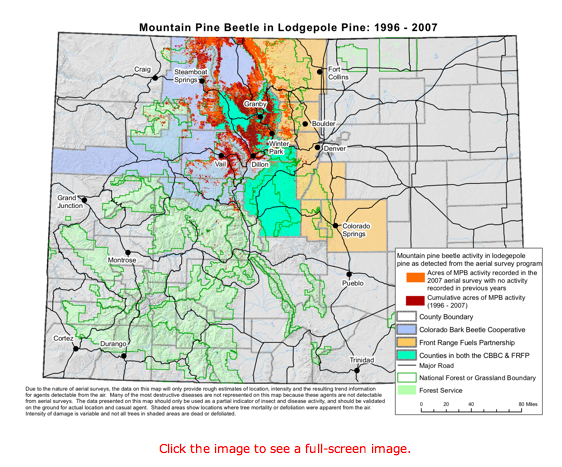 The U.S. Forest Service map shows the extent of the mountain pine beetle epidemic that has ravaged
Courtesy U.S. Forest Service
Colorado ski towns look to Utah for cautionary beetle-kill tale
Resorts, politicians scrambling to head off wildfires, impacts to water supply
By David O. Williams
April 14, 2008 — As Colorado lawmakers grapple with the state's mounting mountain pine beetle epidemic, they need look no farther than neighboring Utah for an example of what the rice-sized insects can do to the state's economically vital ski and tourism industries.

Brian Head ski area in southwestern Utah became the ski industry poster child for beetle-kill devastation when a spruce bark beetle infestation wiped out nearly all the trees on the upper half of the mountain in the mid-1990s. The resort is still recovering nearly 15 years later.

"They liken it to a slow-moving forest fire," Brian Head general manager Henry Hornberger said, although his ski area was spared an actual wildfire because of aggressive dead timber removal. "It was almost 100-percent beetle kill."
After all the dead spruce trees had been removed through U.S. Forest Service timber sales, Hornberger says the remnants of a hurricane blowing out of the Gulf of California knocked down all the live fir trees that hadn't been touched by the beetles. He says longtime customers were shocked by the devastation.

"(The storm) blew down all of the fir trees because they had none of the protection of spruce trees," Hornberger said. "There were live firs trees just scattered like pickup sticks – just jack-strawed everywhere."

Besides visual impacts, Brian Head is forced to shut down its chairlifts much more frequently because of high winds that used to be blocked by dense forest, and Hornberger says those same winds often scour snow off ski trails.

Colorado's $2.6 billion-a-year ski and tourism industry (second only to agriculture in terms of revenues) faces the same potential impacts in the face of a rampant infestation that began about the time Brian Head's beetles were finishing off their spruce buffet.

The mountain pine beetle outbreak in Colorado ravaged 500,000 acres of mature lodgepole pines in 2007 and 1.5 million acres overall since the mid-to late-'90s. Ski industry executives, business leaders and politicians on the state's Western Slope have for several years been frantically trying to mitigate the insect's destructive but natural impacts.

"We're not going to stop this (epidemic)," Eagle County Commissioner Peter Runyon said. "It's going to run its course. All we can do is work at preventing catastrophic wildfires that have huge potential economic impacts."

Eagle County, home to Vail and Beaver Creek ski areas, has partnered with area municipalities and the U.S. Forest Service, which owns the land where the ski areas are located and the vast majority of land throughout the county, to clear dead timber around towns to promote regeneration and create defensible spaces in case of wildfire.

The town of Vail has budgeted approximately $500,000 for thinning projects this year and will team with the county and the Forest Service to remove more beetle kill this summer after using a helicopter to remove dead trees in the West Vail neighborhood last summer.

"The concern I have now is there isn't a more conscious effort on the part of Vail Resorts to remove trees within the ski area boundary," said former Vail Resorts president Andy Daly, now a town councilman. "That could have a significant impact on the community if we got a lightning strike in the ski area where it could spread into an area with homes and destroy infrastructure on the (ski) mountain, which would impact the local economy."

Vail Resorts – which owns Vail, Beaver Creek, Breckenridge and Keystone ski areas in Colorado – does not disclose precisely how much it's spending on beetle-kill mitigation at its resorts, all of which are being hit hard by the mountain pine beetle. Company officials do say they are actively thinning in areas where dead trees threaten chairlifts and structures.

"The pine beetle infestation is a widespread forest issue throughout the western U.S., and our company, like so many other ski resorts and mountain communities, will continue to work with the Forest Service to identify and evaluate short-term and long-term solutions," Vail Resorts spokeswoman Kelly Ladyga said in an email.

Bill Jensen, former president of Vail Resorts' mountain division and now the CEO of ski industry rival Intrawest, says Vail cut down around 2,000 trees the past few summers at a cost of about $100 a tree -- 40 percent of which goes to the Forest Service.

"I don't think the solution for Vail or any ski resort is to let all the trees die and just cut down trees for the next 15 years," said Jensen, whose new company manages Winter Park and owns Copper Mountain and Steamboat – all harder hit by pine beetles than Vail.

Jensen advocates selective thinning to promote regeneration and greater forest diversity (more spruce, firs and aspens), planting saplings, clearing fuels from the forest floor and equipping ski areas to fight fires using snowmaking systems and firefighting gear. He's also hoping for a scientific solution such as injecting pesticides to save critical stands of trees.

Such alternatives to spraying might help private landowners as well, Jensen says, because mountain real estate is even bigger business than skiing. Eagle County alone saw a record $2.96 billion in real estate sales in 2007.

Forest Service officials say stopping this epidemic is impossible at this point, and that it will just have to run its course throughout most of the national forest. But, they add, protecting mountain communities and ski resorts from fire is a top priority.

"The trees will come back even if we don't remove them, but we have more control over what (the new forest) will look like if we get a jumpstart on regeneration -- if we remove the trees in small areas," said Ken Kowynia, winter sports program manager for the Rocky Mountain Region of the U.S. Forest Service. "We're beyond trying to stop this.  The basic objective now is twofold: one is to cut trees so we can provide for the next generation of trees and also for aesthetics and fire protection."

This is an ongoing series on Colorado's mountain pine beetle infestation. Next up: legislating a solution – a look at the numerous pieces of state and federal legislation proposed by Colorado lawmakers.


1 Comment on "Colorado ski towns look to Utah for cautionary beetle-kill tale"