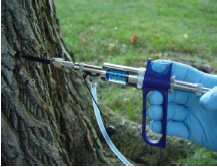 Repellent injection systems like this one could be used in the battle against the mountain pine bark beetle epidemic that has ravaged Colorado's forests, but the technique must first win EPA approval.
Courtesy of Arborjet
www.arborjet.com
Tree IVs inject controversy into battle over beetle kill
Even environmentalists agree any and all solutions must be probed
By David O. Williams
April 25, 2008 — A tree injection technique being touted by a Massachusetts firm as a potential silver bullet in the battle against the mountain pine bark beetle has sparked debate among the product's proponents and Forest Service and ski resort officials over its safety and effectiveness.

Arborjet CEO Peter Wild, whose company has an exclusive deal with the Swiss agricultural pharmaceutical firm Syngenta to distribute a repellent called emamectin benzoate, said the process could save thousands of the state's lodgepole pines from certain destruction.

But some Forest Service and ski industry officials are lukewarm to the concept, which is billed as cheaper and more effective than current spraying practices but is still awaiting Environmental Protection Agency (EPA) approval.
"For someone to be out there claiming a silver bullet is a very big claim, and they just want to tread lightly," Wild said of federal officials who oversee much of the public lands where the rice-sized beetles have already destroyed 1.5 million acres of trees since the late 1990s.

Wild is confident tests his company is currently conducting on 40 trees each at two different elevations near Breckenridge and Walden will prove the product's effectiveness and hopefully earn it EPA approval by June. He said the injections can save areas of the forest aesthetically valuable for tourism and critical to protecting ski areas from high winds.

At one point, Vail Resorts showed a great deal of interest in the process -- which involves injecting the repellent into the base of mature lodgepoles like a hospital IV and allowing the chemical to be distributed throughout the tree via its resin -- but backed off with the departure this past winter of the president of the company's mountain division.

Bill Jensen, who starts this summer as CEO of ski industry rival Intrawest, wanted to test the product on a wide scale last summer when he was at the helm of Vail Resorts, which owns Vail, Beaver Creek, Breckenridge and Keystone ski areas in Colorado -- all of which operate on leased Forest Service land that's been hard hit by the beetle epidemic.

"Different resorts are experimenting with different things, but ultimately the pine beetle is going to rule the American West, or necessity will drive a solution," Jensen said at the time, "and I tend to think the solution will be more scientific than chainsaw-driven [clear-cutting dead trees]."

Jensen now heads Vancouver-based Intrawest, which in Colorado owns Steamboat and Copper Mountain and manages Winter Park. But his former company, Vail Resorts, canceled a March meeting with Arborjet in the wake of publicity about its interest in the product, which company officials deemed purely informational.

"While we all search for solutions that will halt the pine beetle infestation in our national forests, Vail Resorts would not consider using any product harmful to the environment and prior to necessary product approvals from both the Environmental Protection Agency and the United States Forest Service," Vail Resorts director of corporate communications Kelly Ladyga said.

Forest Service officials' approach to dealing with this outbreak and preventing future catastrophic beetle outbreaks has been the thinning of forests to promote tree regeneration and to encourage greater species diversity. They are somewhat dubious of the injection process.

"We're certainly open to a whole range of treatment options, and it's encouraging to see that industry is getting creative and coming up with some ideas to helps us out, but with [injections], it's too soon tell, and so far we haven't seen that it's been effective," said Janelle Smith, spokeswoman for the Rocky Mountain Region of the U.S. Forest Service.

Wild, whose firm started as a small organically-based tree-care company in 1977, said similar injections have proven very effective with other species of trees under attack from insects. He added it's generally considered more environmentally friendly than spraying because chemicals are contained internally instead of being dispersed through the air and soaking into the ground.

Wild said he understands some measure of caution pending EPA registration but is a bit surprised by what he sees as political backlash against the very concept of trying to save certain pockets of trees on public lands.

"This state is way political," Wild said. "We need to concentrate on the private sector, because the Front Range alone is very threatened over the next decade. The homeowner associations will be big business in the mountains, but I'm afraid the ski resorts are doomed if the feds don't allow any treatment."

Even some environmentalists agree that any and all methods of saving some key trees in and around mountain towns and ski resorts should be aggressively pursued.

"In general, to the extent that the EPA determines that (the injection process is) a safe option, then it's certainly something we should consider for places like ski area," said Ryan Bidwell, executive director of Durango-based Colorado Wild, a conservation group based in Durango. "But I think it's important not to look at this as a solution to the problem, but as a way to help in some localized, priority scenic areas."


1 Comment on "Tree IVs inject controversy into battle over beetle kill"