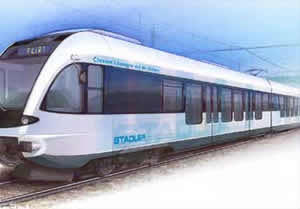 The FLIRT (Fast Light Innovative Regional Train), built by Stadler of Switzerland, might be one option for a mountain rail system between Denver and the resort communities stretching to Glenwood Springs and beyond.
Courtesy of Stadler Rail
www.stadlerrail.com
I-70 toll derailed as mountain train gets a boost
Political will, funding major hurdles for mass transit between Denver, ski resorts
By David O. Williams
April 25, 2008 — Even as an Interstate 70 toll proposal came to a screeching halt and simultaneously the concept of a mountain rail corridor got a big boost from the state Thursday, the twin questions of funding and political will for mountain mass transit loom large.

The Colorado Department of Transportation on Thursday agreed to back off widening the state's critical east-west interstate through towns and counties such as Idaho Springs, Georgetown and Clear Creek that had threatened to sue. In exchange, those communities will support widening the highway in other areas, and CDOT will back pursuit of the rail concept to see if that eliminates the need for widening by the year 2025.

Meanwhile, a $5 toll proposal on I-70 between the western outskirts of Denver and the Eisenhower Tunnel was put off for at least a year when its sponsor, Sen. Andy McElhany, R-Colorado Springs, tabled the bill until Memorial Day, when the Legislature will no longer be in session. Sen. Chris Romer, D-Denver, said he may reintroduce the toll proposal next year.

Mountain communities and transit supporters had opposed the toll idea, at least until further studies could be conducted and greater consensus could be reached on an I-70 solution. Ironically, that seemed to happen with Thursday's CDOT deal.

"I don't think this agreement is a huge departure from anything else we've discussed before, including the I-70 Coalition," said Clear Creek County Commissioner Harry Dale, chairman of the Rocky Mountain Rail Authority and a member of the I-70 Coalition, which is made up of governments and some private corporations along the I-70 corridor.

"What is different is what CDOT is willing to accept. Clear Creek County has been asking for this kind of solution for years, but CDOT was unwilling to accept, at least initially, not completely six-laning I-70 through Clear Creek County."

Clear Creek County and the towns of Idaho Springs and Georgetown object to widening because of the lack of land, the potential environmental and economic impacts, and the fact that a rail solution wasn't part of the overall solution to gridlock along the state's main interstate artery between metropolitan Denver and the resort playgrounds in the mountains to the west.

"I don't think at all that this is just lip service to transit," Dale said of Thursday's agreement, which was struck between CDOT, key mountain communities, and representatives of the ski and trucking industries, but still needs to be formalized. "You could really see CDOT's commitment to transit through the funding of the two studies. Now we'd like to see a greater commitment from the governor's perspective."

An I-70 Coalition transit study is currently under way, and the Rocky Mountain Rail Authority, which is charged with studying high-speed rail along the I-25 and I-70 corridors, should have its study under way by June, with the goal of completing it by the end of 2009. CDOT is the major funding source for both studies.

Gov. Bill Ritter's office did not respond to a request for comment on the new agreement or the push for mountain rail, and political will and public support for such a project remain the biggest hurdles.

Similarly, CDOT spokeswoman Stacey Stegman said CDOT director Russ George declined to comment on the new verbal agreement between all the I-70 stakeholders until it is finalized and in writing.

Looking at Europe, Japan

Voters defeated a 2001 ballot proposal to fund a $50 million high-speed monorail test project in Pueblo, which would have served as the basis for a future but unfunded mountain monorail. Dale said that failed because it didn't actually put a working train along the I-70 corridor and because times were different.

With rising gas prices, political uncertainty over the future of global oil supplies, greater acceptance of the impacts of global warming, the success of the Fastracks light-rail system in metro Denver, and ever-increasing traffic snarls to and from the mountain resorts, voters might be much more willing to fund mountain mass transit in the next decade, Dale said.

The rail authority study will look at all types of technology and funding scenarios, but Dale said a high-speed train capable of speeds of 120 mph or more might not be necessary along I-70. Such technology is expensive and to some degree difficult to implement along the steep grades and twisting, turning canyons into Colorado's mountains.

But existing technology already in use in Europe -- hybrids between light-rail and heavier conventional commuter trains that travel between 65 and 80 mph, such as the FLIRT train (Fast Light Innovative Regional Train) built by Stadler of Switzerland -- could expedite the process. The argument that the technology doesn't exist to handle Colorado's mountain grades doesn't hold water, Dale said, pointing to the proliferation of ski trains in Europe and Japan.

"It's a copout," he said. "To a certain extent, if there was political will to make it work, I guarantee they would make it work tomorrow. The technology exists. Other areas of the world that have been doing this longer than we have have figured this out, and they know there has to be a substantial rail component to get people out there (to ski resorts)."

Vail asks for comprehensive plan

Dale argues that ski companies such as Vail Resorts and Intrawest need to be a big part of the rail solution since they have in part contributed to I-70 congestion in the past decade through the sale of discounted season passes in the Front Range market. Some have suggested a surcharge on ski passes to fund I-70 improvements and a rail solution.

"There's a critical need to improve the experience on I-70 winter and summer, and the rest of the year, too," said Vail Resorts spokeswoman Amy Kemp. "To focus on only one option or one month or one season won't help solve this complex issue. We need a broader, more comprehensive road map that takes into account the multitude of variables, the numerous stakeholders, the realities of funding mechanisms."

Kemp points out that July and August, when the ski areas are shut down, are the two heaviest months for I-70 -- although the peak skiing month of March is a close third - but Kemp says Vail Resorts, which is a member of the I-70 Coalition, is only one of many stakeholders and therefore shouldn't be solely responsible for untangling the traffic overload along the corridor.

"We believe that any and all ideas need to be on the table at this point," Kemp said. "However, we need a comprehensive plan, and there needs to be a strategic approach to taking short- and long-term steps to improve the experience on I-70 for everyone -- for our mountain community residents, for the trucking industry, for Front Rangers, for Western Slope residents, for every Colorado resident, for skiers, for hikers, for rafters, for bikers, for everyone."

1 Comment on "I-70 toll derailed as mountain train gets a boost"