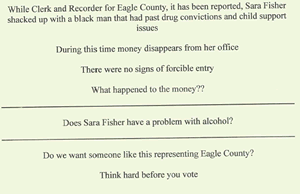 This anonymous mailer sent out during the 2006 general election plunged Eagle County politics to an all-time low.

Nasty smear tactics mar ski-town politics
DA probed racist postcards alleging infidelity
By David O. Williams
October 25, 2006 — VAIL – Mud season just took on a whole new meaning in Eagle County.


In a place that's usually quietly waiting for enough snow to pile up on the ski runs in the fall, a mud-slinging mailer with racist undertones sparked community-wide outrage and an investigation by the district attorney's office.


An anonymous postcard began appearing in post-office boxes in late October 2006, accusing Democratic county commissioner candidate Sara Fisher of extramarital affairs, theft of public funds during her stint as clerk and recorder and alcohol problems.


"I have been a prosecutor here for 12 years and stood for election myself and I have never seen anything this dirty," said Republican DA Mark Hurlbert, who tried unsuccessfully to determine the source of the mailer in order to file charges under a 2005 state law that criminalizes the knowing use of false statements in political campaigns.


Fisher acknowledged a past alcohol problem that she has dealt with and is no longer an issue, but she called the other accusations totally false and "despicable."


"It certainly leads one to believe that an extremist group fearful of losing control is trying to manipulate the process," said Fisher. "(Local politics have) gotten significantly uglier here the last few years, and quite frankly it started about the same time that James Johnson was first elected."


Johnson, an African-American Democrat who served as commissioner from 1992 to 2000, was not named in the postcard but apparently was the target of what many felt was its most outrageous allegation.


"While Clerk and Recorder for Eagle County, it has been reported, Sara Fisher shacked up with a black man that had past drug convictions and child support issues," the mailer read.


Fisher, who is married, said she and Johnson were nothing more than friends – and sometimes political adversaries – during her tenure as county clerk and a member of the local Republican Party.


That affiliation ended in 2001 after her own party unsuccessfully sued her, alleging voting irregularities in the close election of Democratic county commissioner Arn Menconi the previous year.


"If (the Fisher postcard) is supposed to be a reference to me, then I can categorically say that it's false," said Johnson, who was elected twice despite leaked stories about a past conviction for drug possession and missed child-support payments.


"(Negative campaigning) didn't prevent me from being elected, it didn't prevent Arn from being elected or re-elected, and I don't think it will be prevent Sara from being elected," Johnson said prior to the Nov. 7, 2006 general election. Fisher won the election decisively.


Both Fisher's opponents in the commissioner's race, Republican Tom Edwards and independent Roger Brown, condemned the fliers and said they had no idea who sent it out.


Edwards, a town council member in Gypsum, said he has never seen anything so underhanded in the local political arena and did not think anyone in the local Republican Party was involved. "I think it's horrible," he said. "I have nothing but disgust for what was done."


Brown also would not point fingers at local Republicans.


"That would mean it was some sort of a Republican radical fringe, but I doubt that," Brown said. "I don't think they're that dumb."


Hurlbert launched a probe to determine the source of the postcard but couldn't gather enough evidence to trace the mailer.


He did, however, pursue a separate complaint alleging that groups calling themselves Citizens for Better Local Government and Coloradans for Economic Justice ran numerous attack ads full of false information aimed at dethroning Avon Mayor Ron Wolfe and incumbent council member Brian Sipes as well as derailing a childcare tax and a county home rule campaign.


Wolfe and Sipes won re-election, but the childcare tax and home rule were defeated. Hurlbert sent the complaint to a bipartisan committee of elected DA's to determine if charges were warranted.


In addition to Fisher's win, the blue trend continued in Eagle County, with Dems doing well in statewide races as well: Summit County resident Dan Gibbs hammered Ken Chlouber 6,775 to 3,808 in the race for state rep in District 56, which includes Vail.


And Eagle County residents overwhelmingly voted for Democrat Mark Udall for U.S. Congress in District 2, as well as Democrat Bill Ritter, who replaced term-limited Republican Bill Owens in the governor's office.


1 Comment on "Nasty smear tactics mar ski-town politics"