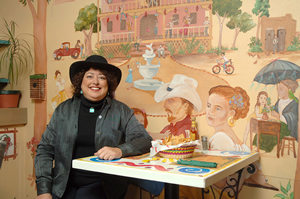 Superdelegate Debbie Marquez of Edwards says it's time for the Democrats to come together and focus on beating Sen. John McCain in the race for the White House.
By Dan Davis
trekkerphoto.com
Marquez wants fellow superdelegates to declare their candidate
Local party official eager for Democrats to start taking on McCain
By David O. Williams
April 30, 2008 — Debbie Marquez, a restaurateur and Democratic superdelegate from Edwards, declared her support for Sen. Barack Obama in early February. Now she said it's time for her undeclared counterparts in Colorado to "get off the fence" and start announcing who they will support for the Democratic nomination for president.

"I do agree with [Democratic National Committee] Chairman [Howard] Dean that the superdelegates who haven't made the announcement of their decision come the end of this primary season need to get off the fence and confirm our nominee," said Marquez, who added it was tough to go against Sen. Hillary Clinton after years of supporting the Clintons in the White House. But now Marquez said the party needs to move on.

"Going into the next few elections there is no way (Clinton) can catch up on pledged delegates, so it's just superdelegates that will determine this, and for the most part they are going to vote with how their states have gone," Marquez said. "If we can wrap this up by the beginning of June, then we have a couple of months before the (DNC) convention (in Denver Aug-25-28) to unify and bring the party together."
There are nine more primaries remaining, ending with Puerto Rico on June 7.

For Marquez, one of the first Latinos elected to the Democratic National Committee in 2004 and a longtime chairwoman of the Eagle County Democratic Party, her choice of Obama came down to his opposition to the war in Iraq versus Clinton's Senate vote for the invasion. Marquez felt vindicated by her state and county's overwhelming support for Obama at the Colorado Caucus in February.

Colorado voted for Obama by a margin of 66 percent to 32 percent for Clinton. Obama won Eagle County by an even bigger margin, 72.1 percent to 26.1 percent.

Marquez said she received a phone call from former President Bill Clinton asking for her support for his wife just before the caucus in February, and Marquez said it was a difficult conversation after she informed him or her support for Obama.

"When I saw video of a speech in California [in which Clinton was scolding the audience], it reminded me of my phone conversation," Marquez said. "I could feel the finger wagging. It's interesting to see who he is and how he responds to those of us who don't agree with him."

Marquez, part owner of a popular Mexican restaurant in Edwards, which is about 15 miles west of Vail, said it's time for the political debate to center on the presumptive Republican nominee for president, Sen. John McCain.

"I would like to see more discussion about John McCain, and the DNC is doing all they can on that end since our candidates are in more of a primary situation," she said. "It's up to us citizen Democrats to get the word out about John McCain, such as his tax policy and the fact there's no benefit to working-class voters."

Comment on "Marquez wants fellow superdelegates to declare their candidate" using the form below