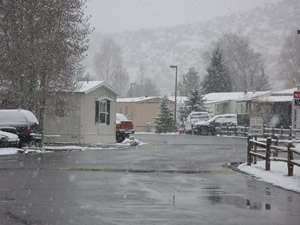 The Aspens trailer park in Avon was the scene of a federal ICE raid last week in which seven people were arrested.
By David O. Williams
Raids by ICE agents have some Vail Valley residents on edge
Timing, intent of fugitive operations teams questioned
By David O. Williams
May 1, 2008 — Intensified illegal immigration enforcement in the Vail Valley, including a raid of an Avon trailer park last week by a U.S. Immigration and Customs Enforcement (ICE) fugitive operations team, has touched off a vitriolic debate in the local paper and sparked renewed community concern about the social and economic impacts of such raids.

"The recent raids that are taking place in our community are having a greater impact than we realize on the social fabric of the community," Eagle County Commissioner Arn Menconi told realvail.com. "Quite often young children who are American citizens are being violently separated from their parents and from their community. Rather than trying to take an approach of changing the laws, this drastic approach of raids is having a very traumatic effect on families and neighbors."

Seven arrests were made at the Aspens trailer park in Avon on April 23, following four more arrests earlier in the month in Avon. A simultaneous operation in Edwards on April 23 targeted several more illegal immigrants who were allegedly in defiance of federal deportation orders, but no arrests were made.
Of the seven arrests made in Avon April 23, six of the people were in violation of federal deportation orders, ICE spokesman Carl Rusnok said, and a seventh man was found to be in the country illegally during the course of the raid.

Rusnok said only one of the seven people arrested in Avon last week had a criminal record - for harassment and stalking -- but added the fugitive operations teams does put a higher priority on people with criminal backgrounds beyond failing to complying with deportation orders.

Rusnok could not confirm whether, as alleged in letters and emails to the Vail Daily, any of those arrested were the parents or sole caregivers of young children.

"I can't tell you that," Rusnok said. "I can only tell you that children were left with adult relatives whenever arrests were made where there were children in the house."

Menconi, however, did clarify that anyone arrested for serious criminal offenses, regardless of their immigration status, should be separated from their children, who should then be placed with child protective services.

In a resort area heavily dependent on immigrant labor, some employers are worried about both the social impacts of the ongoing raids on working families and the impacts to the local economy, which experienced serious labor shortages during the past ski season.

"It makes me very unhappy because I work with a lot of the Hispanic population and many of them are happy, honest, wonderful people, and I'm very disappointed that we are going about this in such a horrible way," said Jodi Link, owner of Activity Sitters, a local babysitting service. "It's just a very sad situation, and I also know that the Hispanic population are amazingly hard workers in the Vail Valley, and we wouldn't survive here without them."

One letter writer to the Vail Daily suggested the raids were carefully timed: "What diabolical timing that this should happen so soon after the ski season ends, when the number of workers needed is at its lowest," wrote Christen Allen Ibarra.

But other comments, mostly anonymous, applauded the actions of the ICE agents: "Sorry, Mr. Ibarra, but most citizens around here support deportations."

Another argued "parents should think about their children before they decide to lead a life of crime."

ICE's Rusnok said the nationwide increase in the number of fugitive operations teams from eight in 2003 to the current level of 75, including the addition of 52 teams in the last year, is paying off. Last year at this time, Rusnok said, there were 600,000 alien fugitives in the United States, and for the first time ever, that number has decreased to the current level of 580,000.

Two teams based in Denver and responsible for Colorado and Wyoming made 438 arrests in fiscal 2007 (Oct. 1, 2006, through Sept. 30, 2007). So far in fiscal 2008 (Oct. 1, 2007, through Feb. 15), they've made 150 arrests in the two states.


And according to the Justice Department, in January there were 4,739 federal prosecutions nationwide that were classified as immigration matters, up more than 20 percent from the previous month and the highest number of such prosecutions in the past seven years.

Rusnok said the fugitive operations teams target alien fugitives with serious criminal backgrounds, and that the ICE is merely fulfilling its legal mandate from Congress to uphold federal immigration laws. As for parents who may be sole caregivers of young children but also happen to have criminal backgrounds and are in the country illegally, Rusnok said child protective services or other local social services agencies are called in.

"We're extremely sensitive to the fact that there are children impacted by the unfortunate decisions of the parent or caregivers," Rusnok said. "When we do determine that there may be sole caregiver issues, we take steps to make sure children are not left home alone."

Debbie Marquez, an Edwards restaurateur and one of the first Latinos elected to the Democratic National Committee, isn't surprised by the anti-immigration backlash in the local and statewide media.

"We don't have any leadership in our state on the immigration issue except on the 'anti-' side," Marquez said. "What do you expect from the citizens with how they respond except hate when that's what our Legislature has moved forward."

Marquez said Colorado's anti-illegal-immigration law of 2006, which requires thousands of state residents to prove they're here legally to get certain government benefits, coupled with stepped-up ICE raids, is creating an environment of intolerance and fear.

6 Comments on "Raids by ICE agents have some Vail Valley residents on edge"