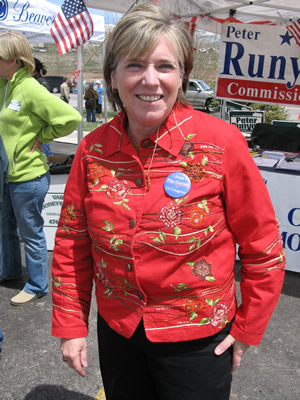 Former state Senate president Joan Fitz-Gerald, recently in Edwards for Cinco de Mayo festivities, won 61 percent of the delegates in the Congressional District 2 Assembly near Denver last weekend.
By Daivid O. Williams
Pricey congressional race comes into focus following assembly in Denver
3 Dems, 2 Republicans vie to represent Vail, Eagle County as Udall chases Senate seat
By David O. Williams
May 12, 2008 — Both Congressional District 2 Democratic candidates Joan Fitz-Gerald and Jared Polis got what they wanted over the weekend at the CD2 assembly in Westminster, landing on the Aug. 12 primary ballot, but don't expect their campaigns to agree on the implications.

Fitz-Gerald, the former State Senate president, claimed 61 percent of the delegates Saturday at Ranum High School, more than enough to land on the primary ballot and hopefully then take on one of two Republicans vying for Democrat Mark Udall's seat in Congress. Udall is battling Republican Bob Schaffer for retiring Wayne Allard's seat in the Senate.

Polis, a philanthropist millionaire from Boulder who ran several successful Internet ventures, garnered 39 percent of the delegates. A third Democratic hopeful, conservationist Will Shafroth of Boulder, is trying to petition his way onto the primary ballot. He attended Saturday's assembly, gathering signatures and addressing the gathering of approximately 800.

By winning the highest number of delegates, Fitz-Gerald earned the top line on the Aug. 12 ballot. Shafroth needs at least 1,000 signatures of registered CD2 voters by May 29 in order to make the primary ballot.

Two Republicans, Scott Starin and Rich Mancuso, have also announced their intentions to challenge for the seat that's heavily favored by most analysts to remain in Democratic control.

The Polis campaign claimed an 8-percent bump in delegates from the Boulder County assembly March 15, in which Polis earned 30 percent of the delegates. Boulder accounts for more than 50 percent of the delegates in CD2, which also includes Eagle County and a number of rural Western Slope counties.

"You can make numbers say anything," Fitz-Gerald campaign manager Mary Alice Mandarich said. "Going into this assembly there was virtually no change from where we had finished after all of the county assemblies. The thing (the Polis) campaign needs to look at is they spent a lot of resources on the CD2 assembly, and we feel very comfortable with where we ended up for being outspent the way we were outspent."

Fitz-Gerald has decried the amount of money being spent on the CD2 race, one of the costliest in the country, including more than $600,000 of Polis's own money injected into his campaign.

"We are the Democratic Party," Polis told the crowd Saturday, according to a Polis campaign release. "But this election is not about us, it's not about my opponent, it's about the very future and soul of our country."

A focal point for the Polis campaign is a plan to get U.S. troops out of Iraq. Co-authored by Polis and endorsed by a number of other candidates nationwide, the plan can be found at www.theresponsibleplan.com.

For Fitz-Gerald, Saturday's result means the focus is now entirely on the primary. Mandarich said she isn't sure if Fitz-Gerald will even attend the state Democratic convention in Colorado Springs May 17 since there is nothing at stake for the CD2 candidates. Fitz-Gerald may be out going door-to-door in the various districts, she said.

"Having gone through the caucus process, this is our foundation to move forward knowing we can move though any county districts and there are a number of people truly committed to Joan," Mandarich said. "That was the reason we chose to go through the caucus in the first place, to build the foundation and the ground game moving into the primary."

Shafroth has said that's the same reason he's going the petition route, because he feels it will ultimately put him in front of the highest number of potential voters, so he can hear their concerns and respond accordingly. He compares it to the vetting process going on between Hillary Clinton and Barack Obama right now.

"In the same way for me it's been a great experience because going door to door can be kind of tough," Shafroth said. "These people are not easy on you. You have to have your message down … and be at your best."

He added that attending an assembly where the majority of delegates had committed to Fitz-Gerald or Polis was somewhat daunting.

"I felt very warmly received by most of the people," he said. "It was a little odd being in front of 800 people, all of whom had shown up to support somebody else. Having said that, I felt welcomed by my fellow Democrats in this process. Most people were fine and understood this is what Mark Udall did 10 years ago."


Comment on "Pricey congressional race comes into focus following assembly in Denver" using the form below