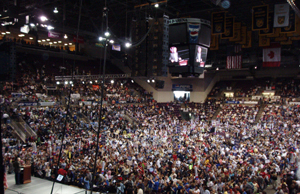 The delegates of the Colorado Democratic Convention welcome Governor Bill Ritter, who opened proceedings by calling for increased exploration of green energy and solidarity among Democrats, among other things.
Photo by Tom Boyd
McAuliffe shouted down at Colorado Democratic Convention
Chaos ruled the day as alternates faced five-hour seating delay
By Tom Boyd
May 18, 2008 — Give Terry McAuliffe a calculator and a cause, and he'll find a way to create controversy.

McAuliffe, Hillary Clinton's campaign chair, spoke to a crowd of about 10,000 at the Colorado Democratic Convention in Colorado Springs May 17, but it wasn't long before his speech was interrupted by the overwhelming chants of a raucous crowd.

Things were going smoothly for McAuliffe at first as he praised Clinton and said, "It's time for a woman to be president," but the crowd erupted into its loudest shouts of the day when McAuliffe claimed that Clinton currently holds the lead in the popular vote.

McAuliffe seemed to revel in the uproar he caused when he stated that, according to the current popular vote, Clinton had roughly 17 million votes to Obama's 16 million. These numbers could only have been reached by including the Florida and Michigan votes, which are currently not recognized by the Democratic party.

Even then, the numbers seem inaccurate. Including Michigan and Florida, Clinton has 15.1 million to Obama's 15 million. Without Michigan and Florida, Obama has 14.4 million to Clinton's 13.9 million. The math gets pretty fuzzy at this point, but it seems none of these totals includes all of the caucus states, which voted overwhelmingly in favor of Obama.

Puzzled, or perhaps angered, by his statements, Obama supporters chanted, "O-BAMA, O-BAMA," and Clinton supporters, "HILL-A-RY," for about two minutes before McAuliffe could be heard shouting "I love your enthusiasm!" into the microphone.


It was several minutes later, and a few bangs of his gavel, before McAuliffe could resume his speech, the remainder of which focused on unifying the party once the primary season was over.

McAuliffe indicated, toward the end of his speech, that the nomination would be decided by June 3.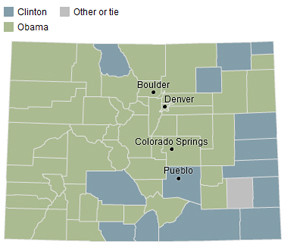 Obama took a lion's share of the votes during Colorado's Super Tuesday caucus, Feb. 5, including 72 percent of the vote in Eagle County.


Controlled chaos at the convention

Although Obama won the statewide democratic caucus 66.6 percent to 32.3 percent on Feb. 5, support for Clinton seemed quite strong during McAuliffe's speech.

It became clear that Obama had the greater support, however, when Arizona Governor Janet Napolitano took the stage to speak for Obama and was greeted with a deafening roar.

As Napolitano spoke, rumors of backstage wrangling between the Obama and Clinton campaigns leaked through the building because the seating of alternates, which was scheduled to begin at 10 a.m., wasn't commenced until around 3 p.m.

Soon after Napolitano finished speaking, alternates crushed into the mezzanine level of the World Arena, gridlocking foot traffic in the arena as they battled to take the place of absent pledged delegates.

The five-hour delay may or may not have been a result of internecine Democratic warfare, but eventually alternates were seated and a vote was taken.

Copies of the tomb-sized Obama ballot ran out, however, and officials scrambled to a nearby copy store to obtain paper. The remaining votes were written by hand.

Beyond voting for either Clinton or Obama, delegates were also voting for three open seats on the Democratic National Committee, as well as for which delegates to send to the National Convention in Denver in August.

Results of the vote are expected Monday at the earliest.

See more political news from the convention by clicking here and here and here.


16 Comments on "McAuliffe shouted down at Colorado Democratic Convention "