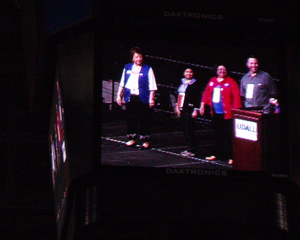 Democratic National Committee member Debbie Marquez, in red, is shown on the big screen during the Colorado National Convention Saturday, May 17. Marquez was later joined onstage by the entire Eagle County delegation, as well as others from around the state, as accepted her nomination in front of a crowd of approximately 10,000 at Colorado Springs' World Arena.
Photo by Tom Boyd
Eagle County superdelegate Debbie Marquez awaits results of Colorado Convention vote
By Tom Boyd
May 17, 2008 — Eagle County's Debbie Marquez will attend this year's Democratic National Convention as one of the much-discussed "superdelegates," when the Convention comes to Denver this August.


In the meantime, however, she has another big Convention to think about: the Colorado Democratic Convention.

Marquez is still awaiting the vote from the recent state Convention, where she was given stage time in front of an assembled crowd of roughly 10,000 at Colorado Springs' World Arena this past Saturday, May 17.

Marquez is running as an incumbent to fill one of Colorado's three spots on the Democratic National Committee. DNC members have become big players in the national political scene during this election cycle because superdelegates may decide who the Democratic nominee is for the first time since Gary Hart was denied his chance in 1984.

Marquez was one of seven candidates for the three spots, but was the only one to have a large group of supporters join her onstage as she addressed the crowd. The majority of the Eagle County delegation, along with other supporters from around the state, joined her onstage.

Democratic party officials announced that the results of the vote will be available Monday, May 19, or the following day.


Comment on "Eagle County superdelegate Debbie Marquez awaits results of Colorado Convention vote" using the form below