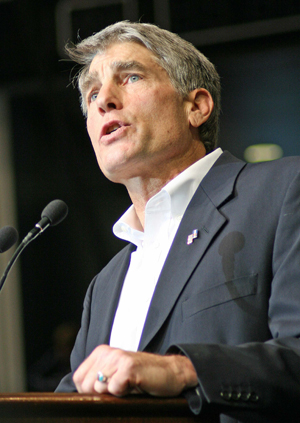 Congressman Mark Udall addressed the 10,000-plus crowd at the Colorado Democratic Convention Saturday, May 17, vowing to reach across the aisle.
Photo by Kim Wille
Colorado Democratic Convention: Udall vows to reach across aisle in U.S. Senate
By Tom Boyd
May 18, 2008 — It may not be preaching to the choir, but when a Colorado Democrat speaks at his own Democratic state convention, it's the next best thing.

With this in mind, Rep. Mark Udall (D-Colorado) used his ample stage time at the May 17 Colorado State Democratic Convention to outline his policies, give Democrats a sense of how he operates, and – perhaps more than anything – let the 10,000 people assembled get a better sense of who he is.

Udall is widely expected to win the Democratic primary – to take place later this year – against Democratic challenger Mark Brenner of Steamboat Springs. He faces Republican challenger Bob Schaeffer to fill departing Sen. Wayne Allard's seat (R-Colorado).

Rather than delve directly into policy in his speech, Udall opened with biographical information.

"When my mother got her pilot's license in 1952, my father didn't know anything about it until he saw her take off on the runway," he said during the opening lines of his speech.

He was also introduced by his wife, who was moved to tears during her description of their romantic years meeting at Outward Bound and then raising their children, Jed and Tess.

Jed and Tess Udall also introduced a short video presentation which showed Udall, dark-haired and bearded, wearing a torn T-shirt, during one of his many trips leading an Outward Bound retreat. The video also showed several shots of Udall scaling Colorado's cliffs and mountains – something he's done avidly all his life.

Udall then launched into the heart of his campaign policy, shying away from some of the "Blue Colorado" talk which had colored the Convention up to that point, and emphasizing instead that he wished to "reach across the aisle," and "work together to bridge gaps," between Democrats and Republicans.


The statements hardly brought the all-Democrat crowd to their feet, but they were in an uproar when he reminded the audience that he voted against the Iraq War in 2004. Udall has visited Iraq twice, and has argued that the U.S. should have no permanent bases in that country. He voted to continue funding the war in 2007.

In his speech, Udall then turned his focus to green energy, stating that Colorado should, "take a leading role" in a new renewable energy economy. He pointed toward the National Renewable Energy Laboratory in Golden as evidence that Colorado is already on its way to accomplishing that goal.

A member of the House Armed Forces Committee, Udall stressed the importance of bringing troops home and provide housing, health care, mental health care, and respect for veterans.

"Colorado Springs has a special bond with the military," he pointed out, noting that the Convention was taking place in the Springs' World Arena, and he looked at the assembled Colorado Springs delegation when he proposed that the country needs, "A new G.I. bill."

Udall is likely hoping his ties to the military will supplant those of Allard, Colorado's senior Senator, who has long been a member of the Senate's Armed Services Committee.

The race between Schaeffer and Udall is expected to be one of the most highly contested Senate races in the nation. With Sen. Ken Salazar already in office and not up for re-election, a victory for Udall would put two Democrats in the Senate for Colorado.

A member of Udall's campaign said he will likely begin active campaigning after the Memorial Day weekend.


3 Comments on "Colorado Democratic Convention: Udall vows to reach across aisle in U.S. Senate"