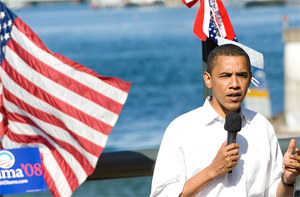 Barack Obama, shown here at a recent rally, is expected to visit Vail Mountain School graduate Michael Johnston's MESA high school Wednesday morning, May 28.
Courtesy www.BarackObama.com
barackobama.com
Obama to visit Denver school led by Vail's Mike Johnston
Presidential hopeful's education advisor a Vail Mountain School graduate
By Tom Boyd
May 26, 2008 — Barack Obama is scheduled to visit MESA high school in the Denver suburb of Thornton Wednesday, May 28, only a day after Republican presumptive nominee John McCain visits the University of Denver campus.

Former Colorado Gov. Roy Romer is expected to introduce Obama, who will then open a small, town hall-style Q&A. The event is not open to the public.

Michael Johnston, a Vail Mountain School graduate and education advisor to Obama's campaign, is the principal at Mapleton Expeditionary School for the Arts (MESA) in Thornton, which Obama chose to visit because it has become a state-wide example of the positive effects of education reform.

"We're honored to have Sen. Obama visiting MESA, and we're proud that he thinks there's enough innovation and success at MESA to make it worth his visit," Johnston said. "We hope that MESA has lessons for education reform nationwide."

MESA made history this year when it graduated 100 percent of its 44-student senior class and also had 100 percent of its graduates accepted into four-year colleges.

Johnston said this is the first time in Colorado, to his knowledge, that a public school has accomplished these goals.

The college-preparatory, grades 7-12 urban high school is part of the Mapleton School district's "Re-Invention" program, funded by the Bill and Melinda Gates Foundation. The Re-Invention program replaces large, comprehensive high schools with a series of small high schools. In turn, expectations for students are raised, and heightened interrelations between students and adults are encouraged.

The day before Obama's visit, Republican presumptive nominee John McCain is expected to give "A major foreign policy speech" at the University of Denver, according to his campaign. Doors for that event open to the public at 8 a.m. Tuesday, May 27.

President Bush will also be in Denver that day, delivering the commencement address to the graduating class at the Air Force Academy.


Comment on "Obama to visit Denver school led by Vail's Mike Johnston" using the form below