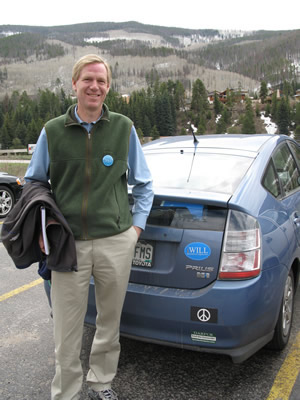 Boulder conservationist Will Shafroth has been touring the 2nd Congressional District of Colorado, which includes Vail, in a Toyota Prius hybrid. Shafroth petitioned his way onto the Aug. 12 Democratic primary ballot
By David O. Williams
Vail-area congressional candidate Shafroth says ending wars will free up funds
Critical mountain infrastructure lagging because of wars in Iraq, Afghanistan, Boulderite argues
By David O. Williams
June 11, 2008 — Will Shafroth is a man of many contrasts. For years, he worked within the Democratic Party machinery of Boulder County as a precinct captain, a house district chair, and finally in 2006 he ran the county assembly.

But when it came time for the 51-year-old Boulder conservationist to consider running for public office for the first time, he opted to go outside the party apparatus in a bid to petition his way onto the primary ballot for Colorado's 2nd Congressional District.

"The petitioning process for me was a deliberate decision I made to go directly to the voters," said Shafroth, who turned in nearly 4,700 signatures late last month and needs 1,000 of them to be valid in order to make it onto the Aug. 12 primary ballot.

"It's the same thing [Congressman] Mark Udall did when he ran 10 years ago. He made a deliberate decision to bypass the caucus process and for me that wasn't a simple decision because I'd been very actively involved in that process for 12 or 14 years."



Shafroth will face major Democratic rivals Joan Fitz-Gerald, the former state Senate president, and former state Board of Education chairman and Internet entrepreneur Jared Polis for the chance to run against Republican aerospace engineer Scott Starin in November. Udall is running for the U.S. Senate.

As the former head of both Great Outdoors Colorado and the Colorado Conservation Trust, Shafroth claims to have preserved more than 325,000 acres of land statewide, building consensus between disparate groups ranging from ranchers to environmentalists.

And despite endorsements from party heavy-hitters such as former Denver mayor and Clinton cabinet member Federico Pena and a political lineage dating back to his great-grandfather, who served as a Colorado governor and a U.S. congressman and senator, Shafroth has staked out ideological ground as a political outsider.

"Joan (Fitz-Gerald) is frankly somebody who's been part of the system and very much part of the old guard, and I'm somebody who brings something very different and a fresh perspective," Shafroth said, discounting the notion that Fitz-Gerald is the presumptive front-runner. "I don't have ties to special interests, the political action committees [PACs] and the pharmaceutical companies and oil and gas."

Fitz-Gerald was picked by 60 percent of the party's delegates during the district assembly in Denver last month, landing her at the top of the primary ballot. Polis earned more than enough delegates to make it on as well with 40 percent. But Shafroth points to a history of come-from-behind victories and success for candidates petitioning their way onto the ballot.

"In 2004, Ken Salazar placed second to Mike Miles [at the state assembly] and won that [primary] race 70 to 30," Shafroth said. "Mark Udall bypassed the caucus process and was probably in third place until early June and he (beat) Gene Nichol, who was the presumptive favorite in that race. [Denver Mayor] John Hickenlooper in 2003 when he ran for mayor was in a distant fifth place at this stage of his campaign, so I think it's a great year frankly to be an outsider and someone who hasn't run for public office before."

The married father of three is proud of the fact he's only contributed $6,900 to his own campaign so far, receiving most of his donations from individuals, while Polis recently grabbed headlines by tossing another $2.1 million of his own money into a campaign that has already bombarded post-office boxes with direct-mail pieces and the airwaves with TV commercials.

"I'm raising it all from individuals who are supporting my campaign," Shafroth said in a recent interview. "I don't have large amounts of institutional money from PACs, and I don't have large amounts of money from my own coffers."

But those may be just about the only differences between the three Dems jockeying to win a seat heavily favored to stay in the hands of Democrats. Largely liberal Boulder is the biggest city in the district,((inserted comma)) with about 50 percent of the voters, but the district also includes several mountain counties in the heart of Colorado's ski country.

Residents of the rural resort region on the Western Slope are focused primarily on transportation issues (fixing the congestion along Interstate 70), beetle-kill mitigation, rising health care costs and immigration and labor issues, said Shafroth.

All three of the Dems in the race are running on anti-war and anti-global-warming platforms. But Shafroth goes to great lengths to make the connection between the wars, the environment and Colorado's inability to fund infrastructure improvements and alternative-energy initiatives.

"Do we really need to spend as much as we are in Afghanistan and Iraq?" Shafroth said. "Put things on the table, because these are decisions that are affecting our ability to do other things, like funding mass transit on I-70. And a 1970s solution to I-70, just repaving and widening it, in the long run, is not going to get us where we need to go."

He adds that a continued over-reliance on fossil fuels will only heighten an already critical global warming situation, and that every type of alternative fuel should be on the table, including the bio-fuel (from) millions of dead and dying beetle-infected lodgepole pine trees. Facilities are coming online, such as a pellet plant in Kremmling, that will convert the dead trees into fuel for wood-burning pellet stoves to heat homes and other buildings.

"We have to look at things through the lens of impact on our atmosphere and our planet through global greenhouse emissions, so just to think that we're going to continue to have a ton of cars driving up I-70 for the next 50 years and have no ability to move people in a mass way is inappropriate at best," Shafroth said.

But Shafroth said the ongoing deficit spending of America's wars in Asia has to be reined in to strengthen the dollar, turn the economy around and begin funding infrastructure improvements on the home front.

This is the first of a four-part series profiling the candidates for Colorado's 2nd Congressional District.


1 Comment on "Vail-area congressional candidate Shafroth says ending wars will free up funds"