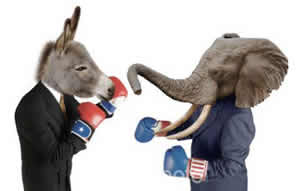 A closer look at state House race for Vail's district
Hasan versus Scanlan a striking contrast in personalities, positions
By David O. Williams
June 17, 2008 — At first glance the differences between incumbent Democrat Christine Scanlan and her Republican challenger for state House District 56, Muhammad Ali Hasan, on issues critical to mountain dwellers appear to be somewhat nuanced.

They both are concerned about the potential economic impacts of traffic congestion on Interstate 70, the raging pine-beetle epidemic in the three-county district (Eagle, Lake and Summit) and immigration laws putting a crimp on the labor pool in Colorado's most vital resort region.

Dig a little deeper, though, and the educator and mother of three from Dillon and the filmmaker, entrepreneur and founder of a local young Republicans chapter from Beaver Creek diverge fairly dramatically.

And, of course, the personal differences between the soft-spoken and measured Scanlan and the flamboyant and at-times polarizing Hasan, who in recent months went through a very public and embarrassing breakup with his former girlfriend and publicist, couldn't be more striking.


Hasan said the No. 1 issue of concern he hears from voters throughout the district is skyrocketing property taxes and how that money is being spent unwisely on unnecessary programs at a time when the state budget is dwindling and key infrastructure is deteriorating.

"With the roads in the shape they are in Colorado, there's a frustration for some people on why are we spending a lot on education or programs that to some people might not be as critical as making sure the roads are paved well," said the unmarried Hasan, who adds he's a former public school teacher who does care about kids but doesn't support full-day kindergarten – one of the programs earmarked for a statewide mill-levy freeze imposed by Gov. Bill Ritter and now being contested in court.

Scanlan, who handles fundraising for the nonprofit Keystone Center and is married to a local contractor, said early childhood education programs are a critical investment in the health and well-being of children. In an area with a high cost of living and low wages, she said both parents often have to work, making childcare and kindergarten even more critical.

"We have one of the lowest property tax rates in the nation," said Scanlan, acknowledging higher property tax bills are an added financial burden. "You're benefiting from the increase in valuation that doesn't do you any good until you sell your house, so I'm not sure how you mitigate that, but I don't think the right answer is saying that we shouldn't support children."

In Eagle County, an anti-tax group formed after an early childhood education property-tax increase failed in a county-wide vote in 2006. The program was later launched through the county's general fund.



Christine Scanlan


Ali Hasan


The average annual wage in Eagle County was $37,110 in 2006, compared to $39,190 nationally, but the median single-family home price was $650,000 last year compared to $217,000 nationally.

The cost of living in Colorado's high country is one of the biggest concerns Scanlan hears from her constituents. She and her husband are trying to figure out how to pay for their oldest daughter to go off to college in the fall, so she feels the voter's pain.

"But I told my husband this is no worse than when our combined income didn't crack $40,000 a year and we paid $12,000 a year for daycare," Scanlan said of moving to Summit County from Wheat Ridge in the mid-1990s. "We'll just figure it out; we'll just make it work it out."

Hasan, a second-generation Pakistani immigrant whose father founded one of the nation's first health maintenance organizations (HMOs), lives in the posh gated resort of Beaver Creek, the high-end cousin of the international destination of Vail, 10 miles to the east. Hasan is running on a promise of introducing a bill to fund some form of mountain monorail along the I-70 corridor, which he proposes paying for by floating municipal bonds.

"I'd be more than happy to approach [ski] companies like Vail Resorts and Intrawest to try to help out with the project, but again, I'm a Republican, I'm a business guy, and I would hate to put more regulations on our businesses to make it happen," Hasan said, responding to mountain mass-transit critics who say I-70 gridlock is primarily a product of weekend skier traffic.

Scanlan, who was appointed late last year to fill Democrat Dan Gibbs' seat when he took over for Joan Fitz-Gerald in the state Senate, said she's focused first and foremost on finding funds to fix state roads, 40 percent of which are in disrepair. Mass transit is a secondary concern.

"It's a part of any long-term equation that I hear, with regards to how we ultimately address the issue of I-70," Scanlan said. "The problem is how to pay for it."

Scanlan helped defeat a pair of I-70 toll proposals floated by two Denver-area lawmakers last session, arguing such solutions need to be part of an overall fix for the highway corridor. She also signed on or helped shepherd through a number of successful bills, including beetle-kill mitigation laws to fund removal of infected trees in and around mountain towns and reservoirs, where the cost of cleanup after a fire can be crippling.

"It's an enormous expense, and that's what we're trying to get ahead of the curve on," Scanlan said, lauding communities that are taking advantage of $1 million a year in state fire-mitigation funds over the next five years. "That's enormously important, trying to protect homes and critical infrastructure, and just bringing dollars to that."

Hasan said clearing out dead trees is important and he supports legislation Gibbs and Scanlan have passed, but he thinks the epidemic, which has killed 1.5 million acres of trees in the state thus far, can be slowed.

"The first thing I would do is take being a state representative and fly to Washington and lobby the Forest Service and federal government to start spending some more money out here, at the very least spending more money on killing the infected trees and if possible installing pheromone packs to protect the healthy trees and replanting some more spruces and more firs so that our forests can evolve," Hasan said.

He also feels more needs to be done at the state level to increase the number of seasonal guest-worker visas to provide the resort industry with a greater labor pool.

"When you tell me that these immigrants come over here and take our jobs and take our taxes, I completely disagree," said Hasan, who positions himself as more of Reagan Republican, referring to the president who granted illegal immigrants amnesty in the 1980s. "Historically, they've made us three times richer [tripling the gross national product since the Reagan amnesty]."

Scanlan supported a Republican guest-worker bill last session aimed at helping the agriculture industry increase its labor pool.

"Immigration is largely completely stuck at the federal level. They're the only ones who have any authority to do anything more than as a state we've already done," Scanlan said. "I'm hoping some leadership will come to that question. Obviously, it's not going to happen until after the election."


Comment on "A closer look at state House race for Vail's district" using the form below