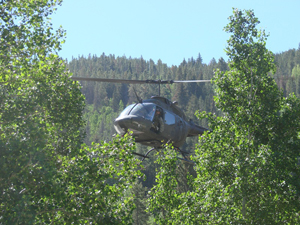 A helicopter aids during the search and rescue operation ongoing on Beaver Creek mountain Saturday, June 21.
Courtesey Eagle County Sheriff's Office
Search is on for woman missing on Beaver Creek
By realvail.com
June 21, 2008 — The Eagle County Sheriff's Office has sent Search and Rescue to Beaver Creek in search of a 56-year-old woman from Lincoln, Nebraska, who reportedly fell into a creek while horseback riding.

Rescue efforts resumed at 7 a.m. Saturday morning on Beaver Creek Mountain. The search is being conducted with two search and rescue dogs, two water rescue teams, and a team searching on horseback. Helicopters from the nearby National Guard helicopter training school are also helping with the investigation.

The search began immediately following a 911 call that came in the Vail Public Safety Communication Center at 6:11 p.m. reporting the incident.

The female was on a ride with a local outfitter that provides horseback rides to Beano's Cabin. The horse she was riding lost its footing and the female fell into the creek. The horse was recovered further downstream and suffered minor injuries.

The Eagle County Sheriff's Office, Vail Mountain Rescue, Beaver Creek Mountain crews, Greater Eagle River Fire, Eastern Eagle County Ambulance, and the Salvation Army are assisting with rescue operations.

More information will be available as rescue operations continue.


Comment on "Search is on for woman missing on Beaver Creek" using the form below