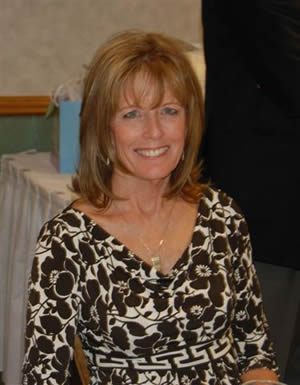 Family remembers woman missing in Beaver Creek horseback-riding accident
By realvail.com
June 22, 2008 — Even as recovery efforts continued Sunday, the family of a 56-year-old woman who fell into a creek while horseback riding Friday at Beaver Creek Resort released a letter of remembrance.

Mary Brake, a prominent Lincoln, Neb., realtor, was riding with her family and a local outfitter who provides trail rides to the popular Beano's Cabin restaurant at the ski area Friday when her horse lost its footing and Brake fell into a rushing creek.

The outfitter and family members, including Brake's husband, were unable to get to her because of dense brush along the banks of Beaver Creek and the speed of the spring runoff.


Her horse was recovered downstream and slightly injured, but Brake had not been found as of Sunday afternoon. Rescuers, called in by 911, searched on horseback, by boat, on foot and by helicopter, but were unable to locate Brake Friday night, Saturday or Sunday.

The following is the verbatim text of a family letter issued through the Eagle County Sheriff's Office:

Tragic Loss at Beaver Creek

Friday, June 20, my aunt's life was cut tragically short. Mary Brake was on vacation with her family, when the horse she was riding stumbled and she fell into the river, all in front of the eyes of her husband and nine-year-old daughter. Her husband and the others on the trail ride made immediate efforts to save her, but the dense brush and rushing rapids made their efforts impossible.

The river in the mountains that she loved so much swept her away from the family that she loved even more. In the days since the accident, trained volunteer search crews have been combing the area, many of them confirming it is the most difficult search that they had even done. As the searchers watched nine-year-old Bayley send flowers down the river for her mother, and with more volunteers stepping forward to help, they decided to extend the search another day.

Mary was an amazing woman, unlike anyone else I've ever known. She was successful at everything she did – in her business and at home. She was an amazing mother to Bayley and her two sons, a loving wife to her husband and best friend, and a devoted daughter and sister as the oldest of eight children. She was a beautiful lady who took care of herself, but always thought of others first. She was always the first to lend a helping hand, or throw a fabulous party. She will be greatly missed by all who ever met her, and a void will never be filled in those whose lives she was a part of.

Our family would like to thank everyone who has offered their prayers and support. We would especially like to thank the Eagle County Sheriff's Office, the staff at Beaver Creek Resort, and all the well trained searchers who volunteer their time to search for Mary. We know those searching on the mountain are here out of the goodness of their hearts, risking their own lives and chance of injury, to bring Mary back to us – and we truly appreciate all that they are doing. In this tragic time, the love and support our family has received has been amazing. As tragic and difficult as this is, we will always remember Mary and celebrate each moment of life as she did.

Sera Kapels


1 Comment on "Family remembers woman missing in Beaver Creek horseback-riding accident"