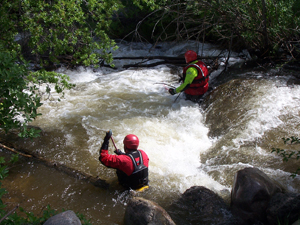 The search for Mary Brake, missing at Beaver Creek since Friday evening, has been suspended until further notice.
Photo courtesy Eagle County Sheriff's Office
Officials suspend search for Mary Brake
Sheriff Hoy: 'Case remains open'
By realvail.com
June 23, 2008 — The search for the body of Mary Brake has been "suspended," according to a release from the Eagle County Sheriff's Office.

Rescuers from 16 different agencies worked an excess of 2,100 hours over 3 and a half days, but, despite these efforts they were not able to locate Blake. The extensive search covered almost all of the three-and-a-half miles of Beaver Creek.

"Our sympathy for the family remains unbounded," the statement reads.

"The mission will not be called off until we can reunite Mary with her family," said Eagle County Sheriff Joseph D. Hoy in the release. "This remains an open case that will be revisited by local authorities and rescue experts when more opportune conditions exist."

Mary Brake, a prominent Lincoln, Neb., realtor, was riding with her family and a local outfitter who provides trail rides to the popular Beano's Cabin restaurant at the ski area Friday when her horse lost its footing and Brake fell into a rushing creek.

The outfitter and family members, including Brake's husband, were unable to get to her because of dense brush along the banks of Beaver Creek and the speed of the spring runoff.

Vail Mountain Rescue Coordinator and Incident Commander, Dan Smith said that, "We are at a point now where we have exhausted every option available for whitewater rescue with no results and have to wait until the conditions of the water change."

Experts in the field discourage individuals from searching on their own, but volunteers may be needed later.


Comment on "Officials suspend search for Mary Brake" using the form below