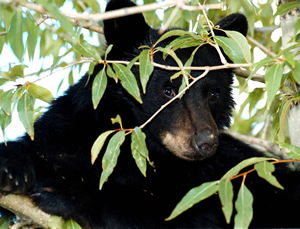 Two black bears like this one were struck and killed by cars in the Vail area in May, underscoring the need for more wildlife over- and underpasses and fencing on area interstates and highways.
By Dan Davis
trekkerphoto.com
Funds for Vail Pass wildlife bridge run down by weak economy
'Berlin Wall for wildlife' overpass still stuck in planning nirvana
By David O. Williams
June 24, 2008 — A proposed bridge to breach the "Berlin Wall for wildlife" on Interstate 70 near Vail Pass is apparently another piece of economic road kill, state highway and wildlife officials said Monday.

An $8 million to $15 million bridge landscaped with trees, grass and bushes suitable for the north-south migration of deer, elk, foxes, coyotes and bears has been in the works for years. But it's still languishing in the design stage despite the increasing danger of large wildlife crossing I-70 between national forest lands on both sides of the state's major east-west mountain highway.

"What we're looking for are any solutions for Interstate 70, which is the Berlin Wall for wildlife in Colorado," Colorado Division of Wildlife spokesman Randy Hampton said. "I-70 really does divide the state and is a challenge because of the fact that it really cuts the heart of some of our herds."

No spring break for local wildlife
State wildlife officials say it's been a particularly busy spring for encounters between humans and wildlife in the high country, especially in and around the high-altitude resort towns of Vail and Aspen.

"We were seeing more conflict in the spring, and we typically don't," said Colorado Division of Wildlife spokesman Randy Hampton. "Bears come out of hibernation and they ramp up pretty slow, but this year has been a little different than what we've seen over the last 10 years."

Warmer spring seasons in the mountains over the past decade, perhaps the result of global climate change, have meant shorter ski seasons but plenty of lush vegetation by the time most bears emerge from hibernation. Record snowfall in most Colorado mountain areas last winter and a much cooler spring reversed that trend.

"The winter stayed around for so bloody long that the berry bushes and the wildflowers didn't bloom out and were maybe three or four weeks behind, and so the bears aren't finding natural food," Hampton said. "Because of that, they were coming down into town."

Though he doesn't yet have any statistical data from the state's northwest region to back that up, anecdotally Hampton said local wildlife officers have been a lot busier this past spring, responding to numerous bear-human encounters in both the Vail and Aspen areas, including home break-ins by bears and more incidents of bears being struck by vehicles on local roads.

The good news is that with recent warmer weather and spring finally giving way to summer in the high country, the mountains are starting to green up and the bears will begin heading up into more remote areas. But Hampton said it's still a good idea to remain vigilant in bear country by keeping trash, barbecue grills and pet food inside closed garages and locking doors and windows.

"In the summertime, bears are always going to be around, especially in Vail and Aspen and places like that that are built in prime bear habitat," Hampton said. "Anytime from when it warms up to when it cools off again."

As for mountain lions, Hampton said in the summer they generally have plenty of food, such as deer and elk, in more remote places where humans are far less likely to encounter the big cats.

"Winter's actually probably more dangerous in those areas for mountain lions because of the fact the deer and elk come down low [because of deep snow up high and better grazing at lower elevations] and the mountain lions follow," Hampton said.

"We had lions operating in the Aspen area on some of the hiking and biking trails over the winter. People came across dead elk lying there all covered in sticks because [lions] cache them and bury them and come back later, so that can be a little unnerving to come across a dead half-eaten thing, which if you know anything about lions you know it's coming back and you're standing there guarding its food."

Hampton's advice for anyone who is attacked by any wild animal in Colorado is to fight back, first trying to look bigger by standing tall and waving a jacket and yelling, and then physically fighting back as hard as possible if bravado doesn't scare the animal off. Never play dead, he said.

The only exception to the fighting-back rule is a moose, Hampton said. In the case of a moose approaching and acting aggressively, he said the best approach is to run and get something big between you and the moose, which depending on the situation might be a tree, a big rock, a car or a golf cart.

And the worst thing you can ever do is feed a wild animal, no matter how big it is. That will only get the animal accustomed to humans and raise expectations of handouts, which can only end badly, he said.

"Once people are stupid, we wind up coming out and dealing with it as the wildlife agency and we wind up getting the black eye," Hampton said. "We're the bad guy because we went out and killed it, but ultimately it was going to bite somebody."

He cites the case of coyote that began hanging out under a chairlift last winter at Copper Mountain ski area. People from the lift kept tossing it food until it finally tried to bite a skier. Wildlife officers then came out and killed the coyote, something they're compelled to do in the case of any wild animal that shows aggression toward humans.


Since the completion of I-70 through Eagle County in the 1970s, Hampton said deer and elk herds have had to deal with a split habitat dividing winter and summer ranges in the north and south. The search for food, particularly in the winter months, has led to increasing carnage on I-70 the last several years.

"Had the herds fully adjusted [to the interstate] we wouldn't see the amount of road kill we see, and it certainly is considerable, especially this past winter when the snows were extremely heavy and the animals were concentrated near the highway," Hampton said. "With little cars, an elk at 65 or 70 mph is definitely a life-threatening incident for driver and elk."

A wildlife overpass on Vail Pass would better connect important habitat to the north and south of the interstate in the Holy Cross and Eagle's Nest wilderness areas, environmental groups say, saving the lives of wildlife and humans. But with state highway dollars dwindling, Colorado Department of Transportation officials say there simply isn't any money for the project.



"We're studying and partially designing it right now," CDOT spokeswoman Nancy Shank said. "There was an earmark that the Southern Rockies Ecosystems Project got a state a legislator to designate for us to design this, but right now there's no money to build it. It's being designed for a particular location, and the money will take us as far as a partial design."

Colorado's lawmakers say finding money for basic upkeep of the state's road system will be difficult enough in the coming years, let alone money for special projects like a wildlife overpass.

"We have 122 bridges that are in some state of being rated defective, we have upwards of 40 percent of our roads in poor condition, and the issues along I-70 are also a priority, so how do we mesh those together and prioritize them in a way that frankly puts public safety at the top of the list?" said state House Rep. Christine Scanlan, whose district includes Eagle County.

Eagle County, home to Vail and Beaver Creek ski areas, has one of the most dangerous stretches for vehicle-wildlife collisions. Last September CDOT began erecting sections of 8-foot wildlife fence on either side of I-70 in certain sections between Wolcott and Eagle.

The $1.7 million project, slated for completion later this year, will include 70 natural ramps that allow animals to cross back over the fences in certain areas so they don't become trapped between fences on either side of the highway. The idea is to funnel wildlife away from areas where it's more dangerous to cross.

"How do we keep animals that have to cross in cases where they just don't have adequate winter range on the north side where their summer range is, or vice versa, from crossing at corners or blind spots or spots that are notoriously bad in the winter from a weather standpoint?" Hampton said.

CDOT officials, who say wildlife-vehicle collisions make up nearly 20 percent of the crashes on the stretch of I-70 between Wolcott (20 miles west of Vail) and Eagle (30 miles west of Vail), hope the new fencing will improve the situation dramatically next winter.


Comment on "Funds for Vail Pass wildlife bridge run down by weak economy" using the form below