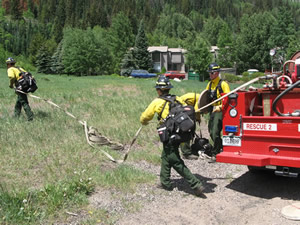 The Vail Fire Department's wildland firefighting team rolls out hoses during training near East Vail's Bighorn Park Monday.
By David O. Williams
Fuel load guarantees Vail wildfire will be like Yellowstone with houses
Firefighters working hard to create defensible space to at least have a 'snowball's chance'
By David O. Williams
July 1, 2008 — In Vail these days, firefighters don't talk about if the big one's going to hit, they say it's simply a matter of when … and how many multi-million-dollar homes will be left standing after the fact.

"It's going to come; it's just a matter of when," said Tom Talbot, wildland coordinator for the Vail Fire Department. "Yellowstone was primed to go in 1936, but all of the stuff didn't align. It took till '89 to align, and then it went and it went big, real big."

Talbot, a Vail firefighter since 1978, spoke matter-of-factly during a training session Monday at Bighorn Park in the shadow of the nation's second most popular ski resort. He was overseeing a crew of four wildland firefighters dedicated to battling blazes in the bone-dry woods around town.

A pine bark beetle epidemic that began in 1996 and is estimated to have already decimated more than 1.5 million acres of the state's lodgepole pines is expected to kill more than 90 percent of the mature lodgepole pines on and around Vail Mountain.

"We are ready to defend Vail," said Talbot, bristling a bit at a recent local newspaper poll in which more than 80 percent of the respondents said the city is not prepared for a catastrophic forest fire.

"Our firefighters are trained and ready to go and we will make a difference. We're not going to put it out; we're going to steer it around our homes, and we may lose one or two [houses], but for the most part we're very proactive in creating a defensible space so our firefighters can get in and make a difference."

Vail has had a number of smaller wildfires over the years, including a brush fire behind the West Vail Safeway a decade ago that required a slurry bomber to squelch, but no major forest fires since a massive conflagration formed Vail's famous Back Bowls ski terrain more than a century ago.

The last two summers in Vail, a crew of seven wildland firefighters has been reducing fuels — cutting down and removing dead trees and burning slash piles of branches — in an effort to create a 150-foot defensible buffer around the entire ski town. They hope to be 40 percent done with that process by the end of this summer, with the entire project slated for completion by 2012.

The buffer zones don't fireproof towns but instead give firefighters a place to battle the blaze. When ski towns were cropping up in the '60s and '70s, the cabin-in-the-woods mentality resulted in hundreds of homes built in and amongst the trees at the end of steep roads, most of the time with highly volatile shake-shingle roofs. Building codes have since changed in Vail to require asphalt, metal or tile roofs instead, but many neighborhoods in the wildland-urban interface remain at risk.

"[Buffer zones] gives you a place to hopefully make a difference," said Talbot, who's also project manager for the Vail Valley Forest Health Initiative, a pioneering fuels reduction effort that began on a small scale in 2003. "It's improved our odds tremendously, threefold as opposed to no-fold, as opposed to being down in there and totally surrounded and in tight and having no defensible space."

Vail's money has been bolstered by funds from the U.S. and state forest services, as well as Eagle County, but viewed from the highway it seems like a drop in the bucket compared to the thousands and thousands of rust-red dead trees carpeting the surrounding mountains.




"It kind of comes down to we have a snowball's chance now, whereas before there would just be areas there where there was nothing you could do," said Eric Lovgren, Eagle County's wildfire mitigation manager. "You're not going to risk human lives. You're just going to get everyone out of there and back to a safe distance and just watch it go."

Such dangerous areas still exist throughout town -- steep draws or hillsides dotted with homes and heavily carpeted with dead or dying trees — but they're fewer and farther between, Lovgren said, after more than $500,000 in county funds were spent on the problem the last two years. He estimates the federal government has directed more than $1 million toward mitigation just in Eagle County, since efforts began in earnest five years ago. The town of Vail spends an extra $120,000 on its seasonal seven-man wildland firefighting crew each year.

But Lovgren said fuel breaks don't mean a town is protected by a fire "forcefield." He cited the massive Coal Seam fire of 2002, an hour west of Vail along Interstate 70, in Glenwood Springs.

"As far as fire jumping lines like that, drive down to Glenwood Springs and look at what the Coal Seam fire did when it jumped I-70 and the Colorado River," he said. "Don't be lulled into a false sense of security and thinking that, 'Oh, the fuel breaks up and we're safe now.' They're certainly safer, but there are still some things to be done on a home-to-home basis."

Talbot, who worked that Glenwood fire and watched in amazement as it jumped the Interstate and destroyed 18 homes, agreed that mountain homeowners need to do everything in their power to protect their resort retreat. He recommends calling the local fire department or community development department and getting a free fire-wise assessment.

Property owners adjacent to public lands are allowed to cut down trees 200 feet into the forest, after first clearing it with the proper public land agency, and Talbot also recommends clearing away nearby brush, making sure address numbers are visible to firefighters and developing an escape plan with family members.


Comment on "Fuel load guarantees Vail wildfire will be like Yellowstone with houses" using the form below