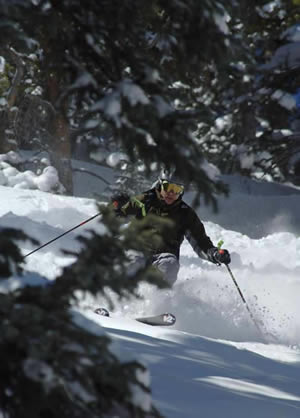 Tree-skiing scenes like this one at Beaver Creek will change dramatically over the next decade as the White River National Forest is massively transformed by a massive mountain pine beetle epidemic.
By Dan Davis
trekkerphoto.com
Vail Resorts, Forest Service officials kick off 'veg management' planning to battle beetles
White River National Forest officials admit they need to do more near ski resorts
By David O. Williams
July 5, 2008 — U.S. Forest Service officials Tuesday acknowledged the mountain pine bark beetle epidemic has dramatically altered the landscape of one of the nation's most popular ski resorts and that mitigation efforts have fallen far short of what needs to be done to assist the state's beleaguered ski industry.

Pine beetles have killed more than 1.5 million acres of lodgepole pines statewide since 1996, and some of the hardest hit areas are in the 2.3 million-acre White River National Forest, home to the nation's most popular ski areas, including Vail, Breckenridge, Keystone and Beaver Creek.

"We're actually hoping in the next year to get an allocation that will allow us to do more with the ski areas than we're able to do currently," said Rich Doak, acting recreation supervisor for White River. "We're wanting to do more than we currently have the resources to do."

Sen. Ken Salazar, in Eagle for a town meeting Tuesday, called the mountain pine beetle the "Katrina of the West" — a potential fire disaster of epic proportions that is finally getting more attention nationally.

"The bark beetle is really a scourge on the lives of the people who live here and the economy," Salazar said. "We're working on it. If it was a magic fix, we would fix it, but the reality is we are on a journey and it's going to take us a while to get over this cycle that was brought to us by nature."

Salazar said additional federal funding for mitigation in Colorado has increased from $1.5 million in 2006, with just 7,000 acres treated, to $15 million in 2008 and 52,000 acres slated for treatment. Doak said the White River District is looking to put more of that money toward ski-resort mitigation.

"We actually put in a proposal for some additional money to start a lot of that planning and help more with the ski areas because right now our resources and the people we have on board is incredibly limited," Doak said.

Also in the works are vegetation management plans for Vail, Beaver Creek, Keystone, Breckenridge and Copper Mountain. A snow ranger is currently working with the planning staff for Vail Resorts, which owns all of those ski areas except Copper Mountain), to realistically deal with the fact that more than 90 percent of the mature lodgepole pines will die in the next two or three years.

"The beetle has changed the vegetation on the ski areas," said Cal Wettstein, acting deputy supervisor for the White River. "How do we want to manage what comes back, the regeneration, the revegetation, to meet what the ski areas need, and what will be sustainable vegetation?"

Wettstein said that since the turn of the century, Vail Resorts has been one of the most proactive ski companies in trying to stop the spread of the bark beetle and he acknowledged that a forest of dead trees covering a ski resort would have long-term visual, safety and recreational impacts.

"Back in 2000-2001, Vail Resorts and Vail Mountain were the first to really start hammering on the bark beetle," Wettstein said. "They put in a lot of money and worked really hard at trying to stop the spread of the beetle, and then in 2004-2005, it became apparent it was a done deal [and nearly all the trees would die]."

The Forest Service, Doak and Wettstein both admitted, didn't have the resources — both from a manpower and a money standpoint — to help much with mitigation efforts at the resorts. That's starting to change, though, with more and more federal, state, local and private money being pumped into efforts to solve the problem.

"We're finally sitting down with (Vail) and looking at long-range integration of what the bark beetle is going to leave for us, and here's what we want the future of the front side of Vail Mountain to look like," Wettstein said, adding each resort is different — either carpeted with denser stands of aging lodgepole that are more susceptible to the beetle (such as Keystone) or in better shape because of more age- and species-diversity (such as Vail).

"The front side of Vail is blessed with a lot of spruce and fir and aspen that fortunately isn't going to be nuked," Wettstein said. "It's not going to look like the [wide-open] Front Bowls of Vail. There's still going to be a lot of trees; they're just going to look different."

Thinning, clear-cutting and using controlled burns to promote that diversity, or in some cases spraying with pesticides to save small but critical pockets of trees, are just a few of the tools the Forest Service will look to implement at ski areas, which for the most part are all situated on leased federal land. But the reality is that most of the White River's resorts will look very different in the next decade.

"We always let (ski areas) do some mitigation as far as hazard trees that need to be dropped that are threatening structures or ski towers or lift lines," said acting Holy Cross District Ranger Kerry Green. "But we are working with them on how we're going to mitigate the mountain pine beetle and how we're going to reforest, remove some of the dead stuff and identify areas where we don't do anything."

Still, such projects take money and manpower, two commodities in short supply after the Forest Service saw its most recent budget slashed by 20 percent. But additional federal funds have started to flow to the problem after constituting little more than a trickle just three years ago.

1 Comment on "Vail Resorts, Forest Service officials kick off 'veg management' planning to battle beetles"