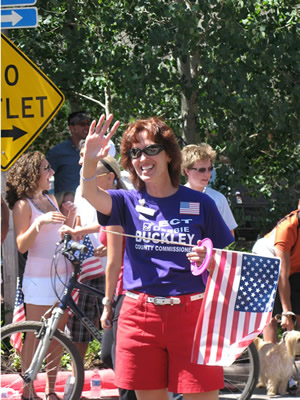 Eagle County commissioner candidate Debbie Buckley, of Avon, works the crowd Friday during the Vail America Days Fourth of July Parade in Vail.
By David O. Williams
Moderate Republicans say Buckleys should come clean about conservative blog EagleCountyTimes.com
Avon Mayor Ron Wolfe among those who claim commissioner candidate has a conflict
By David O. Williams
July 7, 2008 — A growing number of disaffected moderate Eagle County Republicans are calling for the outing of a former Avon town councilman who they claim is behind an anonymous conservative Web site and whose wife is running for Eagle County commissioner.

Republican Peter Buckley, whose wife Debbie is running for county commissioner in November, is believed to be the primary writer for the anonymous Web site EagleCountyTimes.com, the self-proclaimed "online home for the Conservative Voice in Eagle County." Debbie Buckley is also a former Avon council member.

"We recognize Peter's style," said Avon Mayor Ron Wolfe, a Republican. "We know how Peter talks, how Peter writes, we know his photographs, we know the spelling mistakes that he habitually makes, so yes, he may have help, but there is no question in anyone's mind that he is behind [the Web site] and he is using it to damage anything that town government or county government tries to do, any person who is not on his list of appropriate politicians or candidates."

Republican Don Cohen, executive director of the Economic Council of Eagle County, a publicly and privately funded nonprofit economic development organization, said that while the site is generally viewed by those in the know as a rant that's of dubious journalistic value, other readers may not understand the agenda behind the site and may take it at face value.

"It's real important he be outed because (the site) is a serious tool of the right-wing mean machine to go after candidates here, not only to get Debbie Buckley elected but to defeat Peter Runyon," Cohen said of the other county commissioner race in November, which pits the incumbent Democrat Runyon against Republican former Commissioner Dick Gustafson.

"The linkage between the core Republican crazies and that site is pretty high, and so it is important that people understand that because these sites, while they're inaccurate, tend to foment rumor and that rumor tends to take on the odor of truth over time, and people need to know who's starting the rumors and understand why," Cohen said.

Debbie Buckley's opponent in the commissioner race, Democrat and former Eagle Mayor Jon Stavney, said he isn't too concerned about the influence of the Web site on the outcome of the election, but did want to make sure that it adheres to all state election laws if there's a campaign contribution value associated with Peter Buckley's advocacy for his wife.

While there have been several positive posts about Debbie Buckley on the site and several negative shots taken at Stavney, the site does not contain any traditional election advertising.

"I've seen the Eagle County Times website, and outside of that I have no comment," Peter Buckley said. Debbie Buckley didn't return numerous phone calls requesting comment.

The site has taken on Stavney and Wolfe for endorsing stringent new Eagle County affordable housing guidelines requiring developers to build more work-force homes and has relentlessly dogged Runyon and term-limited Democrat commissioner Arn Menconi for the perceived waste of taxpayer funds for everything from early childhood education programs to open-space preservation.

After Stavney appeared on a local talk radio show, an anonymous e-mail from Staff@EagleCountyTimes.com distributed a fake ringtone for Stavney's cell phone with an MP3 clip of the Allman Brothers Band's Ramblin' Man -- "When it's time for leavin', I hope you'll understand … that I was born a ramblin' man" – a commentary on how Stavney did on the show and how he'll fare in the commissioner race.

But this was the site's treatment of Debbie Buckley and Gustafson getting the Republican Party nod in the commissioner race: "Congratulations to Eagle County Commissioner candidates Debbie Buckley and Dick Gustafson both voted in by unanimous 'Acclamation' at their Republican Assembly. Over a week ago, the ECT broke the story and promised you two experienced politicians for County Commissioner, one of each gender.

"The ECT staff met with both candidates this past week and are convinced, that these two candidates, elected together, are the solution to having our County taxes lowered. Much more on these two, over the next several months."

Wolfe said the personal attack-dog agenda driving the site undermines the local political process, and he added that's been the modus operandi behind the Eagle County Republican Party for years.

"I'm a Republican and I'm ashamed of it," Wolfe said. "The [local] Republican Party is controlled by a bunch of extreme wackos who will do everything from pandering to lying in order to make their point. This is the kind of thing that undermines a good strong democratic process in small communities where you have citizen leaders, not professional, career politicians."

Randy Milhoan, chairman of the Eagle County Republican Party, said in a previous interview that the heated rhetoric on both sides of issues needs to be reined in and that he's trying to expand the party in general. Eagle County currently has 6,000 registered Republicans, 5,000 Democrats and 8,300 independents.

"I'd like to see the discourse be more civil," Milhoan said. "But I'm not necessarily trying to add more moderates; I'm just trying to grow the party, and we're hoping by increasing the number of Eagle County women and Young Republicans we can grow the party and get people to be more active."

Ali Hasan, Republican candidate for state House District 56, which includes Eagle County, is a founder of the local Young Republican chapter. He said he has no problem with EagleCountyTimes.com, whether Peter Buckley's behind it or not.

"When you have a name on who's reporting it does lend to greater credibility, but by the same token you also have to think about maybe they don't want to put a name to it," Hasan said. "There's a lot of anonymous blogs out there and a lot of people agree that they serve a good function, so I would never force anyone to put their name on it. I don't think it takes away from the facts. Everyone's allowed to express their opinion, and if we believe them, then so be it."

Asked if he would have a problem with the husband of his Democrat opponent for the state House, Christine Scanlan, writing an anonymous blog attacking him and couching it as a news site, Hasan said that wouldn't be an issue.

"If Christine Scanlan's husband did that, it just means he loves his wife. I can't fault a guy for that," Hasan said. "I think Pete's a very energetic and wonderful activist, and I think Debbie's a very wonderful and honorable person too."

7 Comments on "Moderate Republicans say Buckleys should come clean about conservative blog EagleCountyTimes.com"