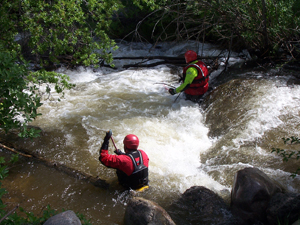 Rescuers search for the body of 55-year-old Mary Brake this past June. She was discoverd today, 20 feet from where she went missing, in the waters of Beaver Creek.
Photo courtesy Eagle County Sheriff's Office
Body of Mary Brake likely found in Beaver Creek
By realvail.com
July 10, 2008 — The body of an adult female was discovered by the Vail Mountain Rescue Group and Eagle County Sheriff officers today only yards from where 55-year-old Mary Brake went missing after a horseback riding accident on Beaver Creek Mountain on the evening of June 20th.

"As we promised, we have completed our commitment to Mary's family to return her to her home and family," said Dan Smith, mission coordinator of the Vail Mountain Rescue Group.

Eagle County Sheriff Officers were contacted at approximately 10 a.m., Thursday morning, when a Beaver Creek employee spotted an item believed to belong to Brake, the Nebraska woman who went missing 21 days ago.


Rescuers worked for about 30 minutes in an area approximately 20 yards down stream from the point where Mary Brake was last seen and removed an adult female from the water. Although positive identification needs to be confirmed, The Eagle County Sheriff's Office has received no other reports of missing persons that may match the description or location where the woman was recovered.

The positive identification through an autopsy will be conducted at the request of Eagle County Coroner Kara Bettis. There is no word yet on the exact cause of death.

"We are proud of our community, their heart and spirit guided each one of them to help bring Mary back to her family," said Eagle County Sheriff Joe Hoy.

The Sheriff's Office has concluded that the incident was not criminal in nature. Brake was riding a horse from Beaver Creek stables on her way to dinner with her husband and nine-year-old daughter at Beano's Cabin on Beaver Creek mountain. The horse stumbled, pitcher itself and Brake into Beaver Creek, which was running high from melting spring snow.

Mary Brake.


Raging waters, heavy brush, and difficult search conditions had prevented a large rescue force from finding her during the following days. The search had been "suspended" on June 23 after rescuers from 16 different agencies worked an excess of 2,100 man-hours over three-and-a-half days to find her, but did not succeed.

Portions of that crew were called back today to help complete the search.


Comment on "Body of Mary Brake likely found in Beaver Creek" using the form below