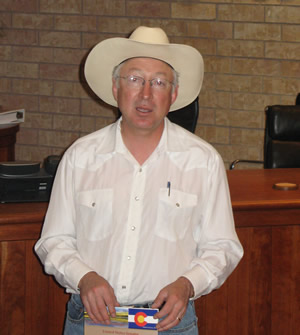 Sen. Ken Salazar, seen here talking during a town-hall-style meeting in Eagle earlier this month, admitted fixing the ongoing H2B worker-visa shortage hurting the state's ski industry may not happen until comprehensive immigration reform is passed.
By David O. Williams
Salazar says ski-resort work visas stalled by immigration debate deadlock
Vail, other ski areas desperate for returning worker exemption for H2B visas
By David O. Williams
July 13, 2008 — The state's labor-starved ski industry is banking on an influx of work visas for overseas lift operators, ski instructors and bus drivers that may be hopelessly mired in the heated congressional deadlock over immigration reform.

At a meeting with Sen. Ken Salazar in Eagle last week, the first question from the audience was posed by a human resources director for Vail Resorts wondering if Congress would be able to pass a returning worker exemption on H2B visas by the end of the current session, thereby freeing up thousands of additional visas.

That exemption expired last September, meaning seasonal resort workers from Australia, Austria, Argentina and all over the world who have worked at Colorado resorts within the last three seasons are counted against the H2B program's cap of 33,000 seasonal winter visas.

"We have to remain optimistic, because this is it. We need this," said Geraldine Link, director of public policy for the Lakewood-based National Ski Areas Association. "We're going to keep working tirelessly to get it passed and make our voice be heard in Congress. We have a couple wrinkles because it's an election year and there's not a lot moving in Congress right now."

The state's $2.6 billion ski and tourism industry relies heavily on overseas labor to fill six-month jobs that are unattractive to domestic workers because of their seasonality, relatively low wages and the high cost of living in most mountain resorts.

In Vail last ski season officials admitted labor shortages forced them to shut the mountain down in mid-April despite record snow conditions, and some restaurants and retailers curtailed hours of operation due to the worker shortage. But in Eagle last week, Salazar wasn't overly optimistic the H2B fix would be in place to help resorts for the coming season.

"Unfortunately, the politics of immigration are so venomous and so hot that even the small issue of worker visas has been very difficult to move forward," he said, adding there's still a chance the exemption could be added as a rider on an appropriations bill before the 110th Congress adjourns for the year. "I still have some hope we'll be able to get it done this year."

Overall, Salazar said comprehensive immigration reform will happen once a new Congress and president are in place following November's general election – no matter who that new president is.

"Immigration is one area where we're very fortunate to have both Barack [Obama] and John [McCain] as our nominees," Salazar said. "I know them both very well, they're both good friends, I've been in trenches with them on the immigration issue and their view on what we need to do is about the same. I'm supporting Barack, but I think on this issue that we are going to move forward."

Salazar added that a permanent fix for the lack of H2B, H1B (skilled worker) and H2A (agricultural worker) visas would be part of any immigration reform package. But ski industry officials say it's unfair to lump them into the overall immigration debate.

"That's the other problem is there are groups who want comprehensive immigration reform, not just this one piece, but that really misses the mark because these are non-immigrant visas," NSAA's Link said.

"These are not people who are looking for a path to citizenship. They're here for a limited timeframe and they go back to their country. That's a requirement of the program. So it's like apples and oranges to mix in an amnesty debate with an H2B visa debate. Unfortunately, the details are often lost in the political debate."

Link said the current economic downturn is having no impact on the demand for labor in resort communities, where the worker pool is still very tight and tourism has remained strong because of an influx of foreign visitors taking advantage of the weak dollar.

Former state Senate president Joan Fitz-Gerald, who's running for Congress in the district that includes many of the state's most popular ski areas, said the visa problem cries out for a long-term federal fix.

"Communities like these need a number of H2B visas that have not been available to them, and we've got to get a very realistic number out there," Fitz-Gerald said. "Because those visas are given out on an annual basis they're used up before these communities get into high gear for ski season."

Link said the cap of 33,000 H2B visas for seasonal winter workers will be exhausted by the end of this month and so she hopes a five-year returning worker exemption can be passed before Congress takes its August recess. In the spring there are an additional 33,000 H2B visas available for summer resort workers.


9 Comments on "Salazar says ski-resort work visas stalled by immigration debate deadlock"