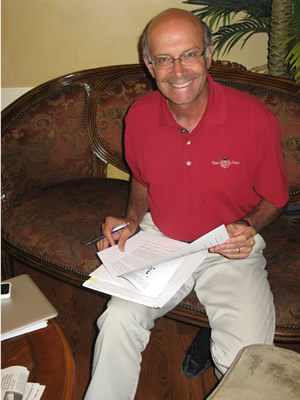 State Rep. Bernie Buescher of Grand Junction tops a lot of lists to be the next speaker of the house in the Colorado Legislature, provided he wins re-election in November.
By David O. Williams
Speaker speculation: Dem Rep. Bernie Buescher could be the next head of the state House
Grand Junction power broker grapples with critical Western Slope issues
By David O. Williams
July 21, 2008 — Driving westbound on Interstate 70 to spend a weekday with state Rep. Bernie Buescher in his hometown of Grand Junction, you'll pass a number of Haliburton trucks, a few late-model land-yacht-type cars with bumper stickers that read, "Drill here, drill now, pay less," and dozens of oil-and-gas derricks dotting hillsides otherwise covered with pinon pines, junipers and sagebrush.

And while the energy boom that's rapidly transforming western Colorado's landscape has been more dramatic in Garfield County, north of Buescher's House District 55 in far western Colorado, the push for more drilling, primarily for natural gas, is increasingly being felt in Grand Junction and surrounding Mesa County.

Buescher, the rare Democrat who has thrived in this traditionally Republican stronghold abutting the Utah border, tops most everyone's list to replace term-limited Democrat Andrew Romanoff as speaker of the House — and if he does, would be Colorado's first Democratic speaker from the Western Slope in 48 years. The speaker, the most powerful position in the House, controls all committee assignments, schedules when bills are introduced and runs the floor proceedings.

An amiable and somewhat bookish-looking 59-year-old former tax attorney, Buescher greets a stranger with a quick smile and explains he's already spent three hours on the phone that morning talking about the state's pending and bitterly divisive oil-and-gas regulations.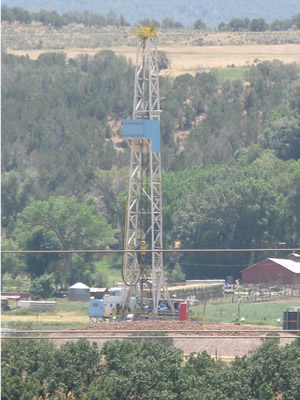 Oil and gas rigs are cropping up all over the Western Slope, but road and bridge infrastructure is crumbling.
By David O. Williams

Should he win re-election this November in what he says will be a tough fight against Republican businesswoman Laura Bradford of Collbran, Buescher says finding the balance between harvesting the much-needed clean-burning energy of natural gas and protecting Colorado's environment for tourists, hunters and anglers will be the biggest issue his district faces in the state Legislature next year.

"You're got to understand the fascinating mix of western Colorado concerns: water, fair share of highway dollars, a respect for wildlife, an appreciation for the outdoors, and at the same time an understanding that the development of our natural resources is important both economically and for the country. We need this natural gas. The country needs energy. The whole world needs energy," Buescher said last week at a coffee shop across from Grand Junction's St. Mary's Hospital.

But I believe everyone wants it done in a way that protects our air and water quality, and most of the companies that I talk to want to do that too, so how do you get that balance?"

Balancing conflicting concerns and forging compromise solutions have been Buescher's trademarks since he was first elected in 2004 in a district where Republicans outnumber Democrats by a 20-percent margin. They're traits that have served him well the past four years and made him prime speaker material — provided the Dems maintain their majority and Buescher turns back Bradford, who owns a medical supply company called ProSafe Products.

"I'm honored that folks are talking to me about being speaker, and a lot of folks on both sides of the aisle have said they would like for me to do that. My Republican friends are really saying, 'You've just got to be speaker,' and that's because I think they know they can work with me," Buescher said. "They know I don't come at issues from a doctrinaire, party-line perspective. I'm a little older than most of the legislators, so that's perhaps a little more experience."

A fourth-generation Grand Junction resident, Buescher ran an aviation company for nine years after his two decades in tax law. His financial chops and years of serving on various government and nonprofit boards caught the attention of then-Gov. Roy Romer, who tapped Buescher in 1996 to reorganize and rescue the financially troubled Colorado State Fair and then work on various health-care programs for the administration. In '98 he missed the chance to become lieutenant governor when Gail Schoettler lost to Republican Bill Owens by less than 1 percent of the vote.

Buescher was angling for a position with what he thought would be state Attorney General Ken Salazar's gubernatorial administration in '02 when his friend surprised him by running for and winning a seat in the U.S. Senate. So Buescher won a seat in the state House and became the first freshman legislator to serve on the Joint Budget Committee.

He now chairs that powerful committee, where he's often the grim reaper for well-intentioned bills brought to him out of other committees by lawmakers from both parties. Bradford's most pointed criticism of Buescher to date has been his support of a statewide mill levy freeze that's since been ruled unconstitutional by a Denver district judge. That ruling is under appeal.

"The criticism that I frankly chuckle about is that I'm a tax-and-spend liberal," Buescher said. "I'm the guy in the Legislature who holds the purse strings and says no."

And Buescher says he'll have to say no more frequently next year if current economic trends continue. By far the biggest challenge facing the state next year, he said, will be finding a fix for the state's deteriorating network of roads and bridges.

A blue-ribbon transportation panel has concluded the state needs another $1 billion a year just to maintain Colorado's current level of mobility, and Buescher says some combination of fees, tax increases or transfer of money from other programs in the general fund will be needed to foot that enormous bill.

"We've got a lot of deficient roads and bridges in Colorado, and frankly the road you just came in on, I-70, is in the worst shape I've seen it in in a dozen years," Buescher said. "It also rankles a little bit over here [on the Western Slope] that I-25 [along the Front Range] got fixed with borrowed funds, and the state is now repaying that, but I-70 hasn't been fixed yet."

Buescher said he loves such challenges and would welcome another four years on the budget committee. But if asked to be speaker, he admitted he wouldn't say no to the only position that could be considered a promotion from chairing the budget committee.

"If it comes to that, I would be honored to do it," said Buescher, who says his first focus has to be winning re-election. "I haven't started systematically going down the list of legislators and calling and asking for their support [for speaker]. More often I get calls from them saying, 'How can I help?' So that's nice."


Comment on "Speaker speculation: Dem Rep. Bernie Buescher could be the next head of the state House" using the form below