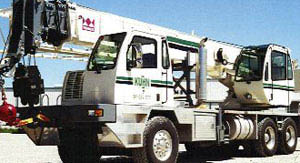 A 40-ton mobile crane similar to this one tipped over and forced the closure of the South Frontage Road today in Vail.

Crane overturns at Vail Spa, no injuries or damage reported
By realvail.com
July 23, 2008 — Vail Town officials are reporting that emergency crews are working to remove a construction crane that has fallen across the South Frontage Road this afternoon as part of a construction project at the Vail Spa Condominiums, 710 West Lionshead Circle. There have been no injuries or property damage. The accident was reported at 12:25 p.m.

Both lanes of the South Frontage Road were closed from about 2 p.m. to about 8:30 p.m.

Vail Deputy Fire Chief Mike McGee says the crane operator/owner was hoisting materials off the ground and onto the roof when the crane became unstable and tipped. It is a 40-ton capacity mobile crane owned by HI Cranes, Inc., of Eagle.

The operator was assisting with an exterior decking project at the property when the accident occurred. Vail Spa is managed by East West Resorts and includes 32 condominiums.

Responding agencies include Vail Fire, Vail Police Department, Vail Public Works Department and the Colorado Department of Transportation.

The Frontage Road will be reopened later this evening once the crane has been cleared. Officials from the Occupational Safety & Health Administration are en route from Denver to conduct an investigation.


Comment on "Crane overturns at Vail Spa, no injuries or damage reported" using the form below