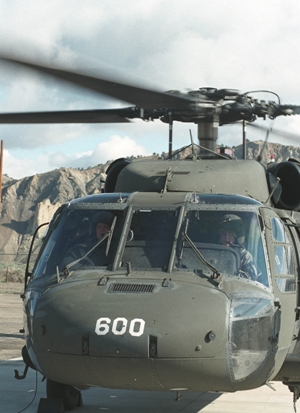 Attack helicopters occupy an obscure corner of the Eagle County Regional Airport, training pilots from around the world to fly effectively and safely at high altitude.
Dan Davis
trekkerphoto.com
Heli pilots take on twin demons of heat, height
HAATS facility part of Eagle County's long legacy of training warriors
By David O. Williams
June 12, 2006 — For such a peaceful place, where so many visitors find solace and serenity in the surrounding mountains, the Vail Valley has a surprisingly war-like tradition.


Many locals know Battle Mountain (also the name of the local high school) is the old mining district off the backside of Vail named for a fierce skirmish between rival Indian tribes in the 1860s.


And they can tell you all about Camp Hale, where 10th Mountain Division ski troopers, including Vail founder Pete Seibert, trained to fight the Nazis in Italy in World War II and returned to launch the North American ski industry.


Some might even be aware that the CIA trained Tibetan freedom fighters at Camp Hale in the late 1950s, or that U.S. Army Special Forces troops still use the high-mountain camp for winter operations.


But very few people in Eagle County know how critical a role an obscure training facility at the Eagle County Airport – likely the only active military installation so near a major ski resort – plays in the current war on terror in Iraq and Afghanistan.


The Colorado Army National Guard's High-Altitude Army Aviation Training Site (HAATS) for 20 years has been teaching military helicopter pilots from around the country, and for that matter the world, how to fly in heat and at high altitude – two conditions that can severely restrict power and lead to deadly crashes.


"Altitude affects engine performance and aircraft performance," says HAATS commander Maj. Josh Day, "but heat does as well, and when you put the two together you've really got the double whammy: Afghanistan in the summertime."


All U.S. Army helicopter pilots go through flight school at Fort Rucker, Ala., about 200 feet above sea level, and it's there they develop bad habits such as using full power all the time to take off and fly, says Day.


"And when you find yourself in a place like Eagle, Colo., or Afghanistan or even Iraq and you're used to that bad habit, you can find yourself crashing an aircraft," says Day. "So what we try to do is teach them to understand how much power they have and when to use it."


At the dry, high-desert end of Eagle County, about 40 miles west of the ski areas, the airport's 6,500-foot elevation and rugged surrounding terrain makes it ideal for duplicating conditions in Afghanistan.


Pilots from units all over the U.S. jockey for one-week slots at HAATS, the only training facility of its kind in the nation, and European-NATO pilots as well as some Middle Eastern allies also pass through the school, which currently has nine instructors and seven helicopters.


Besides chipping in a bit on the local economy, with between 300 and 400 pilots attending HAATS 40 weeks a year, the facility also comes into play during search-and-rescue operations for lost skiers, hikers and hunters.


Most local residents are familiar with the occasional camouflaged Kiowa, Huey or Blackhawk helicopter heading up valley on a back-country rescue, but few know the choppers are based in their own backyard.


Comment on "Heli pilots take on twin demons of heat, height" using the form below