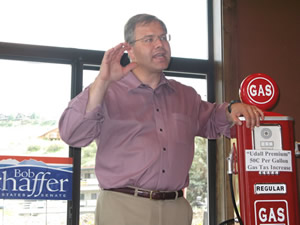 Republican Senate candidate Bob Schaffer shows off his Udall gas pump at E-Town in Edwards Monday. Its price of $4.61 a gallon represents what Congressman Mark Udall, Schaffer's Senate opponent, wants to charge for gas with a 50-cent additional federal tax, according to Schaffer.
By David O. Williams
GOP Senate candidate Schaffer tells Vail Valley backers immigration reform 'decades away'
Former congressman doubts comprehensive approach;Udall camp questions logic
By David O. Williams
August 7, 2008 — GOP Senate candidate Bob Schaffer Monday told a largely partisan group of about 25 Eagle County Republicans that he doesn't believe in comprehensive immigration reform and that it could take "a couple of decades" to deal with the issue.

"The strategy that was tried last year of trying to pass one bill that was going to fix everything, it's not practical," Schaffer said at a fundraising luncheon in Edwards. "It's not going to happen. You have to compromise on every single section of that bill to the point where you're going to get a mediocre attempt at a solution."

Schaffer said he favors a more incremental legislative approach that tackles immigration issues individually at the Department of Agriculture, the Department of Labor, the Department of Homeland Security and the Department of Justice.

"It's probably going to take at least a couple of decades to get us where we need to be long-term," Schaffer said. He added that he favors a much tougher approach to border security, a crackdown on benefits to illegal immigrants, a national identification system and the expansion of temporary worker programs.

Schaffer's congressional junket to the Marianas Islands in 1999 to investigate labor abuses in the American protectorate's guest-worker program has become a campaign issue in his battle with Democrat Mark Udall for the Senate seat being vacated by Republican Wayne Allard.

Despite revelations the trip was arranged by the law firm of now-jailed lobbyist Jack Abramoff, who was working on behalf of the textile industry to thwart labor reforms, Schaffer has since held up the guest-worker program on the islands as a model for the mainland U.S. On Monday Schaffer reiterated his support for expanding temporary worker programs.

"We need to have rational immigration quotas that are pegged to specific industries at certain times of the year," Schaffer said. "There ought to be a formula-driven annual quota for temporary immigration work visas."

In the past, however, Schaffer has been less than supportive of increasing the number of H1B, or skilled-worker, visas, saying in a May debate on a Fort Collins radio station: "'The H1B visa issue has been abused ... resulting in jobs being lost here in this country."

Asked on Monday about the critical labor shortage in Colorado's $2.6 billion ski and tourism sector – the second largest revenue-generating industry in the state after agriculture — Schaffer said he would support expanding the H2B visa program for seasonal tourism workers as long as there is a formula that takes into account domestic unemployment and seasonal industry need based on hard numbers.

There are currently 60,000 H2B visas issued nationwide (30,000 in the summer and 30,000 in the winter), but all of the winter visas have been allotted for the coming ski season and industry experts say there is still a critical shortage of workers. The point isn't lost on Schaffer's Democratic opponent, Mark Udall, says his spokeswoman Taylor West.

"[Udall's] cosponsored legislation that would expand the cap on legal immigrant worker visas, H1B and H2B visa programs, and Bob Schaffer has been on both sides of this issue," said West, in a phone interview after Schaffer's appearance in Edwards.

"It's not really clear where [Schaffer] is. He has argued against it and he's argued for it. Now he's trying to say he's for it because he knows he's in a place where people are looking for solutions."

West also said that Colorado voters are interested in breaking up congressional gridlock on immigration reform, and they want to do it in a comprehensive way that recognizes the economic necessity of legal temporary worker programs.

"To the extent that [Schaffer's] been asked to talk about his solution on the immigration problem, he points to the Marianas Islands where they have a major problem with virtual slave labor and that he's only aware of because of his Abramoff-sponsored junket there," West said.

Schaffer, who served in Congress for six years before stepping down because of a term-limit promise in 2003, said Udall's voting record since his congressional term began in 1999 has been one that's lax on enforcement and rewards illegal immigration.

"[Udall's] voting record is against efforts to try to secure the border, it is in favor of providing cash incentives for those who are here illegally, using your money to pay for college tuition for people from France who want a cheap college education in America," Schaffer said during the Monday luncheon.

West countered that Udall has voted for beefing up border patrols, implementing pilot surveillance programs and installing border fencing where appropriate. But she added he also supports a path to citizenship for the 12 million to 15 million illegal immigrants already here so that they can be "brought out of the shadows" for national security reasons.

"People are looking for a real and comprehensive solution on this immigration problem, and Bob Schaffer is admitting he doesn't have that plan, so between that and the totally false attacks on Mark's record, I'm not sure that's the kind of leadership Coloradans are looking for," West said, adding she has no idea what Schaffer is referring to regarding French college students.

"I'm befuddled as to what in the world he's talking about, so I'd love to know," she said.



5 Comments on "GOP Senate candidate Schaffer tells Vail Valley backers immigration reform 'decades away' "