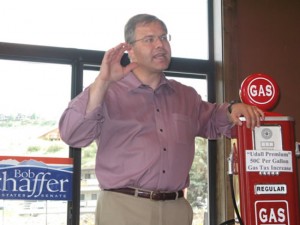 GOP U.S. Senate candidate Bob Schaffer speaking to Eagle County Republicans with an old fashioned gas pump, a constant prop on the campaign trail.
By David O. Williams
Colorado at epicenter of national energy debate
By David O. Williams
August 26, 2008 — Judging by the volume and venom of TV attack ads in Colorado's U.S. Senate race – mostly focused on the wildly divergent energy policies of Democratic Rep. Mark Udall and former Republican Rep. Bob Schaffer — the state's not only a key battleground in the presidential race but also the front line in the political struggle to dramatically reform the country's outmoded energy policies.

With $4-a-gallon gasoline and $130-a-barrel oil now grudgingly accepted as new economic realities, there's tremendous pressure on Colorado to more aggressively tap its vast oil and natural gas reserves on the Western Slope of the Rocky Mountains.

But that push, hotly debated in the Democratic-driven rewriting of the state's drilling regulations, is viewed by many mountain-state dwellers as an affront to Colorado's great natural beauty and a potential anathema to its nearly $3-billion-a-year tourism and outdoor recreation industries.

In many ways, the high, arid and intensely sunny Colorado Rockies and the sweeping plains on their Eastern Slope are the perfect proving grounds for a dizzying array of renewable energy alternatives, and Democratic Gov. Bill Ritter has relentlessly championed his "New Energy Economy" to great effect.

Groundbreaking Amendment 37 in 2003 mandated that by 2015 at least 10 percent of the electricity generated by the state's public utilities must come from renewable sources, and that ballot initiative, co-chaired by Udall, has been widely credited with the state's wind- and solar-energy boom.

Ritter also has marketed the critical mass of academic and research facilities at the state's major universities and the National Renewable Energy Laboratory in Golden to attract significant investment from national and international solar- and wind-energy manufacturing and production companies.

The race is also on to tap into other sources, such as hydro and biofuels from the state's more than 1.5 million acres of dead and dying lodgepole pine forests — an epidemic arguably exacerbated by global climate change.

So it's no surprise that this week's Democratic National Convention, billed as the nation's first truly green political convention, kicked off with a star-studded Green Sunday at Red Rocks (the iconic Denver-area amphitheater) and is expected to be the scene today of a major environmental policy announcement by Speaker of the House Nancy Pelosi.

"Energy and water are two of the most important public resource issues facing Colorado in the 21st century," Udall said at a water conference in Vail on Friday. "Gov. Ritter recognizes this, and so does most of our local and state leadership, but there also is a federal role. [Texas oilman T. Boone Pickens] said it best when he said we can't drill our way out of the crisis we're in. We're going to need a move toward aggressive sustainable energy development."


Called "Skip" Udall in an attack ad for missing a vote last month to extend the congressional session to pass an energy bill, Udall on Friday said he supports the so-called "Gang of 10" (sponsored by five Democrats and five Republicans in the Senate) comprehensive energy bill, which he hopes can be passed by the end of the year.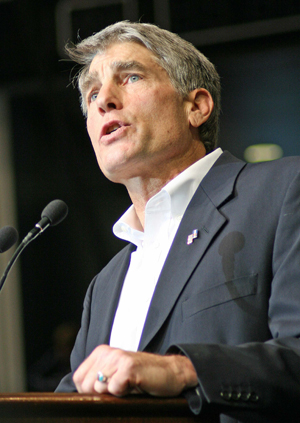 Mark Udall speaks at the Colorado Democratic Convention this past May in Colorado Springs.


That legislation would let certain states determine offshore-drilling policies — counter to the Bush administration push to drop the congressional ban — and would roll back tax breaks for oil companies. But it also would open up more federal land to oil and gas drilling, which has drawn fire from environmental groups.

Udall wants to add provisions mandating percentages of renewable energy production for public utilities nationwide, similar to Colorado's Amendment 37. The federal bill has the support of presidential hopeful Sen. Barack Obama, but not his GOP opponent, Sen. John McCain.

Schaffer, who quit Congress in 2003 to fulfill a term-limit promise and took a job as vice president of the Denver-based Aspect Energy oil and gas company, has since quit that job to challenge Udall for the Senate seat being vacated by retiring Republican Wayne Allard. Schaffer often kicks off stump speeches by touting the renewable-energy resume of Aspect, which he admits does most of its business in Texas and Louisiana and very little in Colorado.

"The price of gasoline was relatively low during the years I served in Congress, but what we knew long-term was that demand was going to be growing throughout the world with the emergence of China and India as industrialized markets and really coming on as consumers of energy, and we knew even back then that America had to do something to get ready for the future or else we were going to be in the perilous situation that we find ourselves in right now," Schaffer said at a recent fundraiser, where he stood next to an old-fashioned gas pump labeled with a $4.61 per-gallon "Udall Price." Schaffer said Udall previously supported a blanket 50-cent gas tax hike, which the Udall campaign denies.

A slew of attack TV ads in heavy rotation have dubbed Schaffer "Big Oil Bob" and questioned his former company's deals in Iraqi Kurdistan, against the objections of the U.S. State Department, and made him the target of Iraq War veterans who have charged him with voting for the war to obtain personal profit.

"You're seeing the beginning of foreign capital being attracted back into Iraq in a way that gives me some hope on the horizon — not right away, but on the horizon — of the prospect of an Iraq that's able to maintain its own security and also start generating an economy that's capable of putting the country back up and on its feet again," Schaffer said at the same recent fundraiser.



Udall, who continues to lead Schaffer in most polls, counters that Schaffer's emphasis on increased foreign and domestic drilling simply won't solve the energy crisis or reverse global climate change.

"Our dependence on foreign oil is not only threatening our economy, it compromises our national security," Udall said. "I've championed renewable energy — wind, solar, biofuels — for my entire public career. Because there's increasing evidence that Mother Earth is not a happy camper. Some people think she mad as hell, or she's at least as hot as hell."

Comment on "Colorado at epicenter of national energy debate " using the form below