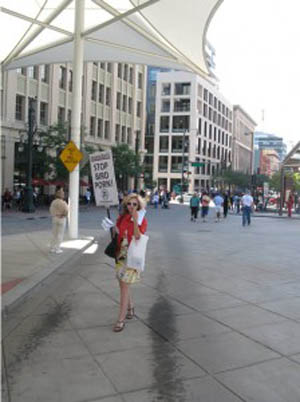 Anaida Krok of Stop Bird Porn protest the deviant ways of America's 48 million bird-watchers.
Photo by David O. Williams
Bird porn among eccentricities at Denver Dem Convention
By David O. Williams
August 28, 2008 — On day 3 of the DNC, it became official: we've seen it all on the protest front.

An organization calling itself Stop Bird Porn marched on Denver's 16th Street Mall Wednesday, warning people that "bird watchers are voyeurs who seek vicarious sexual gratification in the woods" by observing "God's defenseless creatures mating."

The group's director, Anaida Krok, told amused onlookers that Republican presidential hopeful John McCain is an admitted bird-watcher. In the flyer she was handing out, she added, "the elderly find that bird watching in not strenuous, and this erotic experience can be enjoyed privately through binoculars."


On her Web site - www.stopbirdporn.org, Krok said, "We can certainly have a law passed that penalizes bird watchers for abusing birds to satisfy their own neurotic desires."

Porn protesters also permeated other parts of the DNC, with a religious organization towing a giant inflatable elephant emblazoned with the slogan "Porn is Bipartisan." Other weirdness included a Massachusetts man being arrested for carrying a bottle of feces, which he allegedly planned to use in some form of protest.

2 Comments on "Bird porn among eccentricities at Denver Dem Convention"