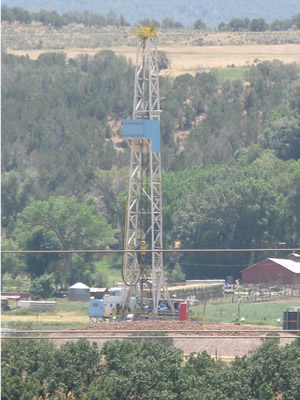 Oil and gas rigs are changing the natural landscape on the Western Slope, and the industry is having a huge impact on local and regional political campaigns.
By David O. Williams
GOP 'nonprofit' backed by big oil money looks to sway state Senate races
Vail's District 8 reportedly one of the targeted races in Republican bid to reclaim majority
By David O. Williams
September 5, 2008 — A Virginia corporation backed by big-oil money and calling itself the Western Skies Coalition has targeted key Colorado state Senate races, apparently bent on portraying the Republicans vying for those seats as champions of alternative energy.

Television ads paid for by Littleton-based Western Skies touting the alternative-energy agendas of incumbent Sen. Shawn Mitchell (R-Broomfield) and businesswoman Libby Szabo, who's running for Senate District 19, have been in heavy circulation. Mitchell represents Senate District 23, where he's being challenged by law student and U.S. Army veteran Joe Whitcomb.

"This Western Skies ad makes Shawn Mitchell look great, and he has the most god-awful voting record [on alternative energy]," Whitcomb said. "He was one of only seven or eight senators who voted against doubling Colorado's alternative-energy portfolio."

According to several sources, the Western Skies group -- which on its Web site purports to be set up as a nonprofit charity focused on "issues that make our nation great" -- is backed by several oil and gas companies with interests in Colorado and is targeting key state Senate races in order to regain a Republican majority by 2010.

"(Rep.) Josh Penry (R-Fruita) has been raising money from oil and gas companies for this effort and the spending is focused on electing Republican candidates in the Senate," said Colorado Conservation Voters Executive Director Carrie Doyle.

"So the assumption is the goal is to claim a Republican majority in the state Senate. The irony is that this is oil and gas money being used to talk about how these candidates stand for clean energy when their voting records are anything but."

Penry didn't return several phone calls and e-mails requesting comment. Sources also say that besides Mitchell and Szabo, Western Skies is backing Rep. Al White (R-Winter Park) in his battle for Senate District 8 (which represents the Vail area) again Democrat Ken Brenner. Western Skies' ads have yet to run in that district but have been in heavy rotation in Mitchell's Front Range district.

Mitchell did sponsor a bill that capped solar-panel inspection fees, but Whitcomb called that legislation mere green washing.

"His whole I'm a sun-god bill was capping inspection fees for solar panels at $300, which is higher than they are in most counties already, so it was really saying, 'Hey, I'm all for solar energy' without really doing anything to help solar energy," said Whitcomb, a Democrat.

Mitchell did not respond to requests to be interviewed for this story.

Szabo is running against Democrat Evie Hudak, who currently serves on the Colorado State Board of Education. Hudak said the ads echo the GOP's broader approach of blaming Democrats for the current energy crisis while at the same portraying themselves as potential alt-energy saviors.

"I've seen the ads on TV for both Libby and Shawn and they're virtually identical," Hudak said. "I'm not familiar with that organization [Western Skies], although I guess that doesn't surprise me that they're paid for by oil and gas companies, because so is 'Big-oil Bob (Schaffer)."

Schaffer, a former Colorado congressman and oil and gas executive, is running against Democratic Rep. Mark Udall. Schaffer has received significant contributions from the oil and gas industry, but in campaign ads and stump appearances has been talking up alternative energy. Hudak said Szabo is a one-trick pony on the energy issue.

"My opponent does not have a record because she has not run for public office before," Hudak said. "But I've seen a lot of her flyers and she seems to be using the energy issue only. I don't see her using any other issue."

Szabo did not return phone calls or e-mails requesting comment for this story.

As a Virginia corporation, Western Skies does not have to reveal its contributors, but RealVail.com has learned from a reliable source the group has raised more than $1 million from four energy companies with extensive oil and gas interests in Colorado and Wyoming: Encana, Noble Energy, Pioneer Natural Resources and Anadarko.

Western Skies Coalition has yet to file for nonprofit status with the IRS but was registered in Colorado on April 2 as a Virginia corporation with Sean Tonner, president of the Phase Line Strategies -- a Highlands Ranch-based GOP consulting group -- as the organization's registered agent in Colorado.

Tonner was his chief of staff for former Gov. Bill Owens, the brain behind the now-defunct Trailhead Group, a 527 group that anonymously attacked Democratic candidates statewide during the 2006 election. Owens, a former oil and gas lobbyist, is listed, along with former George H.W. Bush drug czar and U.S. Secretary of Education Bill Bennett, as two of the more prominent members of Western Skies' executive committee.

Tonner did not respond to requests to be interviewed for this story.





1 Comment on "GOP 'nonprofit' backed by big oil money looks to sway state Senate races"