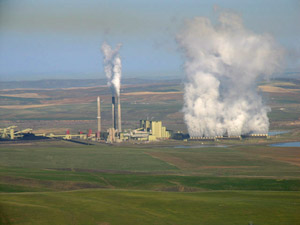 The Craig power plant provides Eagle County with much of its electricity. Holy Cross Energy reports that 59 percent of its energy came from coal in 2007.
ecoflight.info
ecoflight.info
Renewable energy is popular, but coal is still king
A look at Eagle County's energy sources
By Tom Boyd
September 15, 2008 — Anyone who lives or visits Vail and Beaver Creek knows that Eagle County is an energetic place – but this is true in more ways than one. The liveliness and health of the people here is also matched by a relatively high need for energy in the form of electricity. Our ski lifts, our large lodges, wintertime hot tubs and 10,000-plus-square foot houses; all of these things require strong doses of electricity to keep Eagle County "energetic."

So where does Eagle County's energy come from?

The simple answer is coal, specifically from power plants near Craig and Heyden. The more presice answer, says Steve Casey of Holy Cross Energy, is coal, natural gas, renewable energy, and something called "market energy."

Holy Cross Energy supplies all of Eagle County, Garfield, and Pitkin county, as well as a few members in Gunnison and Mesa County, with electricity through a power-supply agreement with Xcel Energy.

In 2007, Casey reports, about 59 percent of Holy Cross' energy came from coal, 29 percent from natural gas, about three percent was market, and about nine percent was renewable energy – which makes Holy Cross one of the nation's leading renewable energy distributors.

"Wind is the significant portion of (our renewable energy)," Casey said. "Then some hydro (from hydro-electric dams) and then some solar."

Renewable energy is on an upward trend. It comprised about 6 percent of Holy Cross' total energy supplies in 2005, up to 9 percent in 2007. At the same time, however, the general trend is to use more and more energy per household in Eagle County.

"If you went back 50 years, I think people probably in the late 50s and early 60s, they were probably using 6 or 700 kilowatt hours," Casey said.

That same number now is averaged at about 1,100 kilowatt hours per residence, an average that includes, "everything from a small studio apartment up to a 10,000-square-foot home."

Every time we switch on a light, plug in a laptop, or recharge an iPod, we are pulling coal energy from one of the two power plants which supply power to Eagle County.

That coal, in turn, is pulled from coal mines mainly in Wyoming's Powder River Basin (an area well known to historians as the summer gathering place of Native American leaders Crazy Horse, Red Cloud, and Sitting Bull in the late 1800s).

As Eagle County uses more and more coal to meet its energy needs, more and more people are becoming aware of the impacts. Holy Cross puts out an annual customer survey. Casey reports that in 2003 the No. 1 customer concern was reliability, and cost was the No. 2 concern.

In 2007, reliability was still the No. 1 concern, but environmental awareness became No. 2.


Comment on "Renewable energy is popular, but coal is still king" using the form below