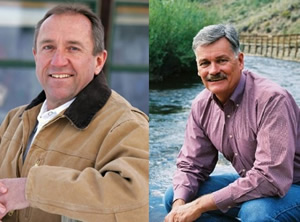 Ken Brenner, left, a Democrat from Steamboat Springs, is challenging Republican Al White -- who represented the Vail Valley in the state House six years ago -- for the state Senate District 8 seat.

Vail's state Senate district at the epicenter of the oil-and-gas debate
Industry seen by some as major threat to ski, tourism economy
By David O. Williams
September 17, 2008 — In many ways, the race for state Senate District 8 in Northwest Colorado is emblematic of the intense conflict between the state's resurgent mining and energy industries and the tourism and outdoor recreation economy that has boomed since the last mining bust.

Both candidates — Al White (R-Hayden) and Ken Brenner (D-Steamboat Springs) — spent years running businesses reliant on the state's ski and tourism trade, and both say they understand the pressures facing the state's fragile alpine environment from oil and gas drilling and various forms of mining.

But Brenner, the former Steamboat City Council president, ski coach and owner of a sports medicine business, said White has too often sided with oil and gas interests in his eight years in the state House.

"He's a very outspoken advocate for the oil and gas industry, and feels that the [pending Colorado Oil and Gas Conservation Commission] rules are way too far-reaching and has been quoted as saying, 'Wait till we get this back in front of the Legislature; we need to get these rules away from the [Ritter] administration and we'll fix them.'"

White, who for decades ran a variety of ski-related businesses in Winter Park, scoffs at the notion that he's in bed with oil and gas interests, citing two consecutive endorsements by the environmental advocacy group Colorado Conservation Voters.

"Those regulations aren't done yet," White said. "The early proposals did go too far, but there are some hardworking negotiations going on between the industry and the environmentalists and the wildlife entities, and so I'm hopeful that we'll come up with something that gives us rulemaking that everybody can live with."

Brenner said winning Garfield County in the south-central part of SD8, the heart of much of the state's most intense natural-gas drilling, will be crucial in his bid to replace term-limited Republican Jack Taylor and become only the second Democrat in the last 50 years to represent the traditionally conservative district. People in Garfield County are not happy, he said.

"The feedback I'm getting is that people are very, very upset and feeling like the industry has been pretty heavy-handed and not looking out for the best for the community, or they're just flat-out furious, one or the other," Brenner said, citing watershed pollution, increased traffic and a spike in oilfield accidents and injuries.

White agreed the industry needs regulation, but he thinks it can be done without chasing away oil and gas money: "We certainly need to make sure that the industry turns an eye toward being sensitive to the environment and responsible for the citizens around which they're working, so it's a delicate balance. I don't want to shut the industry down; I don't want to see capital dollars leaving western Garfield County or the state of Colorado."

Brenner said White's record of pushing for drilling on the Roan Plateau and last year sponsoring an unsuccessful bill to "deregulate wastewater pits" for contaminated water used in drilling run counter to the notion that White cares as much about the environment as he does about the industry. Brenner said industry officials are selling out local communities for big profits.

"I think most folks believe that the industry is overstating its case [about the economic impacts of the new drilling regs]," Brenner said. "There's just a never-ending deluge of letters to the editor and stories in the local newspaper about problems from the industry, and it is clearly the central issue in that county."

White countered he's been tough but fair to the oil and gas industry and said the "wastewater" legislation Brenner was referring to was aimed at streamlining oversight of evaporation ponds, which are regulated by two state government entities.

"It just seemed convoluted to have one aspect of evaporation ponds regulated by the Oil and Gas Commission and another done just based on [independent] ownership and overseen by the [state] Department of Health and Environment," White said. "In the end the legislators decided to leave it the way it was."

Finally, Brenner took a shot at White for not living full-time in the district, pointing to what he said is his rival's primary residence in Denver.

"The other thing to remember, and it irritates people more than anything else, is that (White) doesn't live in the district; he lives in Denver," Brenner said. "He pretends to live in Winter Park, and he bought a townhome in Hayden, but he clearly lives in Denver."

White fired back: "If that's the best weapon he's got, then he might as well forfeit this race right now, because it's a done deal. I've got a condominium down there [in Denver], and if Ken wins this race he will for four months out of the year live down in Denver, I guarantee it."



1 Comment on "Vail's state Senate district at the epicenter of the oil-and-gas debate"