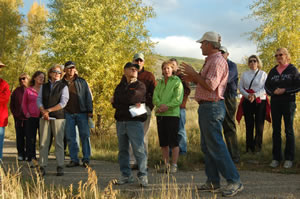 A group tours the Eagle River Preserve in Edwards Monday, Sept. 22. Another open house is set for 5:30-6:30 p.m., Monday, Sept. 29.
Courtesy of the Vail Valley Foundation
Eagle River Preserve open-space project in Edwards offers sneak peek to public
By realvail.com
September 28, 2008 — A 72-acre open-space project west of downtown Edwards that stirred considerable debate over its $12 million price tag in 2005 is once again being unveiled to the public Monday.

Following a successful first outing Monday, Sept. 22, anyone interested in an up-close view of the progress on the first phase of the Eagle River Preserve will get another shot on Monday, Sept. 29, as the Vail Valley Foundation and Eagle County host the final public open house and guided tour.

Set for 5:30 to 6:30 p.m., the guided tour will get under way at about 6 p.m., while participants are also free to explore the project on their own. Complimentary ice cream will be available.

The Vail Valley Foundation spearheaded the fund-raising efforts to purchase the parcel formerly known as Eaton Ranch, raising about $6 million in private funding. Eagle County, which chipped in another $6 million from its open-space fund and now owns the property, is overseeing the restoration of Eagle River Preserve, with governance provided by a strict conservation easement held by the Eagle Valley Land Trust.

The official grand opening of Phase I of Eagle River Preserve is tentatively scheduled for the spring of 2009.

"When Eagle River Preserve is completed, it will be a wonderful gift to both the residents and guests of Eagle County," said Vail Valley Foundation President Ceil Folz. "It is something that we can pass down to future generations as a reminder of how this valley looked 100 years ago."

Parking for Monday's open house and tour will be available in the Eagle River Preserve parking area, with the entrance to Eagle River Preserve located just west of the main Edwards intersection off Highway 6.

For additional information on Eagle River Preserve, contact the Eagle County Community Development Department at (970) 328-8730 or the Eagle Valley Land Trust at (970) 524-8780.



Comment on "Eagle River Preserve open-space project in Edwards offers sneak peek to public" using the form below