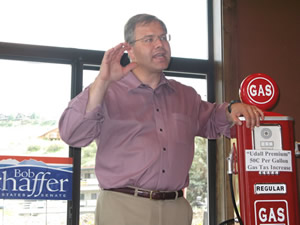 Schaffer spins energy debate in waning days of Senate race after ignoring issue early on
National TV debate contrasts vastly different styles between Schaffer, Mark Udall
By David O. Williams
September 30, 2008 — When Republican Bob Schaffer accepted the state GOP nomination to run for U.S. Senate on May 31, the price of a gallon of gasoline in Colorado had shot up to just below $4. In his entire 17-minute acceptance speech, Schaffer, an oil-and-gas executive for the past several years, had nothing to say about soaring gas prices.

Lately, the price of gas has seemed to be about the only thing on Schaffer's mind, but three months ago, when mapping out his most pressing topics, Schaffer's only mention of energy was a vague line that the country needs to be more "independent when it comes to energy production." For the most part, he spent those 17 minutes hitting on general subjects like "freedom," lower taxes, less government regulation and "winning on the battlefield is better than losing."

By contrast, a week earlier Democratic Congressman Mark Udall, while accepting his party's nomination, acknowledged the economic impacts of rising energy costs on the middle class and spoke about the renewable-energy economy he's actively bolstered since he was first elected in 1998.

"Let's invest in the green jobs of the future right here in Colorado," Udall said. "We can't afford to send another politician to Washington who stands with the oil companies instead of standing with the people of this state and the future of our country."

Fast-forward to early August on the campaign trail. Schaffer has taken to carrying with him an antique gas pump with a $4.61-per-gallon price emblazoned on it — a prop he claims illustrates the "Mark Udall gas price" if the "Boulder liberal" successfully installs a 50-cent federal gas tax. Udall's campaign flatly denies Udall, who actually lives in Eldorado Springs, has ever supported such a tax. As they say, what a difference just a few months makes.

"We have seen that [Schaffer] has spent his campaign attacking Mark Udall with one false statement after another," Udall spokeswoman Taylor West said. "It's been one stunt after another, one false statement after another, and this is just another part of the pattern. We expected better."

During his six years in Congress, Schaffer, who left office in 2003, built a record of supporting legislation friendly to the oil and gas industry (including voting for more than $13 billion in tax subsidies for the industry in 2001). By contrast, Udall has long been a champion for renewable sources (including stumping hard for Amendment 37, which set minimum renewable standards for public utilities).

The race, to replace retiring Sen. Wayne Allard, has become one of the most expensive, and one of the most closely watched Senate races in the country. On Sunday, during a contentious, nationally televised 15-minute debate between the two on NBC's "Meet the Press," the issue of energy came up — a full 12 minutes in.

A combative and relentlessly interrupting Schaffer made the incredible assertion that Democrats like Udall have been working to increase energy prices in order to push up federal tax revenues "on the backs of the oil and gas companies."

Host Tom Brokaw interjected a lengthy explanation by Schaffer, an oil and gas company executive until last December when he stepped down to run for Senate, that the industry only enjoys "marginal" 8 percent profit margins: "But when you use the phrase 'on the backs of the energy companies,' you sound like it's the poor beleaguered energy companies that the federal government is taking advantage of."

"One-hundred and seven dollars per barrel represents extraordinary profits, and so the federal government is raking in funds as a result of this energy crisis," Schaffer replied. "You look for reasons why people in Washington like Mark [Udall] have fought to drive up energy prices; that's one of the possible motivations."

"That's laughable," Udall responded. "Congressman Schaffer's an oil and gas executive. Of course he's going to take the side of the oil and gas industry. Forty billion dollars in profits in one quarter I think to most Americans, is pretty excessive and pretty handsome. If you want, Tom, a maintenance of the existing energy policy that we have in this country, which is focused on oil and gas development and fossil fuels, which we do need, then you ought to hire Congressman Schaffer.

"If you want a comprehensive plan, if you want to throw the kitchen sink at this, where we take a fresh look at nuclear, develop clean coal supplies and we invest deeply in renewables and in conservation — we also drill responsibly — I'm going to be the senator who's going to pursue this. I've been working on this my entire career in Congress. Congressman Schaffer's an oil and gas executive and that's all he knows and that's what he's going to promote."

The Washington Post's Chris Cillizza, in The Fix column, recently upgraded the Udall-Schaffer race from No. 5 to No. 3 among the most likely seats to switch parties on Nov. 4. In all, independent issue and GOP groups have poured $10 million in ads attacking Udall — about twice as much as Udall supporters have spent on ads attacking Schaffer.

"The last two polls conducted in the race — one by a Democratic firm, the other by a Republican outfit — have Rep. Mark Udall ahead of former Rep. Bob Schaffer by 11 points and one point," Cillizza writes. "Average them out and you get a six-point edge for Udall, which seems about right."

Meanwhile, Schaffer continues to try to portray himself and his former employer, Aspect Energy, as major players in the renewable energy sector — despite the fact that a principal with the firm told 9NEWS that 80 percent of the company's current production comes from natural gas. Attack TV ads running against Schaffer accurately point out that he made more than $800,000 working for Aspect and has received more than $170,000 in oil and gas campaign contributions since 1996.

"Mark Udall is the candidate of high energy prices," Schaffer said in a campaign speech this summer. "I will continue to be the candidate of lower energy prices by allowing Americans to fend for themselves and produce for themselves and do so in a way that has the effect of ultimately driving energy prices down and giving us more options not just for drilling, although I'm for that. I'm also for renewable energy."

However, in a recent Wall Street Journal video interview entitled "Drill, baby, drill," Schaffer made no mention of renewable sources such as wind and solar. Instead he focused on offshore drilling — even trying to link Udall to the Cuban government on the issue — and oil shale, an unproven resource that will require immense amounts of water and electricity to extract.

Comment on "Schaffer spins energy debate in waning days of Senate race after ignoring issue early on" using the form below