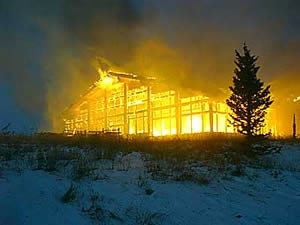 Remembering the Vail fires 10 years later; green movement still feeling the heat
By David O. Williams
October 19, 2008 — Sunday marked the 10-year anniversary of the Vail fires, an arson attack by two members of the Earth Liberation Front that at the time was the costliest act of what became known as "eco-terrorism" in United States history.

The fires, which damaged several chairlifts and destroyed the spectacular Two Elk mountain-top restaurant, sent smoke billowing over Vail Mountain and shockwaves throughout an insulated resort community that previously seemed impervious to the realities of the outside world.

In an e-mail sent to local papers and Colorado Public Radio, ELF claimed the $12 million fires in the name of the Canada lynx, an endangered bobcat-type feline known to have previously roamed the Vail area. An 885-acre ski expansion called Category III (now Blue Sky Basin) was set to be built in prime lynx habitat the following summer.

The fires were followed by a tense summer of protests in 1999, when members of Ancient Forest Rescue and Earth First! chained themselves to earthmovers and on one logging road overturned a vehicle and filled it with cement with a protester partially encased in it. That time-consuming roadblock technique was called a "Batmobile."

Ultimately, sheriff's deputies and armed Forest Service rangers cleared out the protest camps on Vail Mountain the night before bulldozers were set to start clearing trees for the ski expansion.

"From the time of the fires to the time of the protests on Vail Mountain the following summer, there was an great deal of anxiety, sort of like waiting for the other shoe to drop," said former Vail Trail editor and reporter Robert Kelly-Goss, who was in a protest camp as a journalist when it was raided by federal and local police.

"And I suppose it did drop when the protesters from Earth First! and Ancient Forest Rescue blocked the roads on Vail Mountain in July, 1999, resulting in their arrest and the arrest of a Boulder-based journalist Brian Hansen."

But it was years before the perpetrators of the Vail fires were tracked down. The loosely organized ELF, operating mostly in the Pacific Northwest, claimed responsibility for more than 20 arsons between 1996 and 2001, including car dealerships, lumber mills, genetic research facilities and wild horse corrals. The group was undone by an informant who wore a wire for the feds, and two suspects emerged specifically for the Vail fires.

Chelsea Gerlach and William Rodgers were arrested in a sweep of more than a dozen suspected ELF members in 2005, and in later court proceedings it was revealed that Gerlach helped Rodgers pull off the Vail arsons, waiting for him at a trailhead while he set the blazes that did so much damage but didn't result in any injuries or deaths.

Rodgers killed himself in prison before his trial and Gerlach struck a plea deal and was sentenced in 2007 to nine years in a federal prison. She's currently in a women's maximum security facility, FMC Carswell, in Forth Worth, Texas.

Phone calls to FMC Carswell were not returned, and an e-mail to a support Web site, set up by family and friends, got this reply from someone named Shasta:

"An e-mail interview is quite impossible because they don't have e-mail in very many prisons and certainly not hers. A phone interview is technically possible, but probably quite difficult. Good ol' snail mail is probably your best bet, unless you can afford fare down to Fort Worth. Mac Funk did his work in person when [Gerlach] was in the Eugene jail."

Funk is McKenzie Funk, a high school classmate of Gerlach's who did a jailhouse interview with her for Outside Magazine last year.

In that article, Gerlach said she didn't totally regret her actions because the loss of a few jobs resulting from the fires couldn't compare to the loss or extinction of a species such as the lynx.

"True compassion has to apply to everyone: lynx and skiers," she told Outside. "The primary responsibility we have as activists and as human beings is to ensure that whatever action we take is based on love. In my involvement with the ELF, we didn't do that, and in that sense we failed."

She also said Rodgers (codename Avalon) thought the fires would help the mainstream environmental movement, which most conservationists agree was the opposite of what actually happened.

"He thought we could shift the middle of the debate: By being so far at one extreme, we'd make the rest of the environmental movement appear more reasonable," Gerlach said. "That didn't really ring true to me from the beginning, and after the fallout from Vail — which turned out to be detrimental to local activism — it was even clearer. But even for Avalon, Vail wasn't really about Vail. It was about what we as a society are doing."

"In some ways we're still working to overcome that legacy in the community in Vail, where there's still not the trust of the conservation community that there is in other part of the state," said Ryan Bidwell, executive director of Durango-based Colorado Wild. Bidwell added the federal government did use the Vail fires to demonize the entire environmental movement.

"I don't think it really changed the Bush administration agenda, but it probably made their job easier by lumping those actions onto the broad umbrella of terrorism over the last decade," he said. "I don't think that's been effective at all, but every time that someone lumps groups here in Colorado under the same umbrella as ELF it's really disingenuous. In places like Vail that have a history it's made it more important for the conservation community to communicate what its objectives are."

Kelly-Goss, now features editor for The Daily Advance in Elizabeth City, N.C. and a syndicated columnist for Cox Newspapers, said the fires and the protests definitely brought the community itself together after years of bitter debate about the merits of the ski expansion.

"Insofar as any long-term implications to Vail goes, I think what the fires did was to bring a community together; a community that was sharply divided over Category III, later Blue Sky Basin, when I arrived in 1997," Kelly-Goss said.


Comment on "Remembering the Vail fires 10 years later; green movement still feeling the heat" using the form below