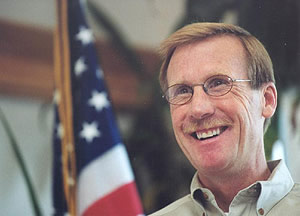 Former 3rd Congressional District U.S. Rep. Scott McInnis (R-Grand Junction).


McInnis predicts he could have taken out Udall, blames far right wing of state GOP
By David O. Williams
October 28, 2008 — Former six-term Republican congressman Scott McInnis Monday said his party would be en route to victory in the U.S. Senate race Nov. 4 if he hadn't bowed out in March of last year for family reasons.

Instead, most polls show Republican Bob Schaffer trailing Democrat Mark Udall by up to double digits in many parts of the state, including McInnis's former Western Slope stronghold. The reason the state GOP is poised to lose a second Senate seat to the Democrats, McInnis said, is because the party has veered too far to the right in recent years.

"I would have beat Udall, that wasn't the issue," said McInnis, who used to represent the Vail area until redistricting. "Frankly I have more difficulties with the right wing of my party then I do with taking on a Democrat. Udall was not the biggest threat I faced in the election. My biggest threat was getting through the primary. Both parties have a pretty radical element to them."

McInnis, now a lawyer and a lobbyist with the Denver firm Hogan & Hartson, would not get more specific about his rift with the Colorado Republican Party and its chairman and Schaffer campaign manager Dick Wadhams, except to reiterate that the extreme elements of the party are calling the shots.

"Most of the races we've lost in the last six years are two reasons: one, money, and two, the candidates we put up," McInnis said. "Generally, people in Colorado don't like somebody who's radically to the right or radically to the left. That's why in Colorado for many decades we had a Republican state House and state Senate and a Democrat governor. They like those checks and balances, and now we don't have it anywhere."

The Republican frontrunner when he pulled the plug on his Senate bid in March of 2007, McInnis stuck with the reasons he gave at the time — primarily to spend more time with his family after 12 years in Washington. But he's predicting a GOP bloodbath Nov. 4, and he sounds like a man who has had some second thoughts about his decision.

"As of January we will have one state-held Republican office and that will be the attorney general, because [secretary of state] Mike Coffman got elected to Congress and [Gov. Bill] Ritter's going to appoint a Democrat there," McInnis said. "And [Democrats] will have overwhelming state House [numbers], overwhelming state Senate, overwhelming Congress."

And McInnis clearly agrees with pollsters about the current prospects for Schaffer, a three-term congressman who previously lost his bid for the state's other Senate seat when he was beaten by Pete Coors in the 2004 primary. He said the huge swing to the left will be bad for the country, just as he felt it was when he was in Congress and Republicans controlled the White House and both the House and the Senate.

"Just because of the overwhelming numbers, you're taking out many checks and balances and that does not lead to good governance," McInnis said. "Sometimes the expectations of some of your supporters are not what's best for the nation. The reality of what we're going into is I think Udall and [Senator Ken] Salazar are going to face pressure like they've never faced it before."

McInnis said environmental groups and unions will place unreasonable demands on the two Democratic senators, and they won't be able to refuse them because of Democratic control of Congress and the White House, leaving no one to blame for a bill stalling out.

McInnis said he underestimated how much he would miss public policymaking and interacting with the people after leaving office in 2004. Depending on the state of his party in coming years, he said he won't rule out running for any number of public offices.

"[Salazar's] up in two years and Ritter's up in two years and there's a [Mesa] county commissioner seat in two years and there's sheriff's race in Mesa County, so who knows?" said the former police officer from Glenwood Springs who now lives in Grand Junction. "Or I might be sitting on my deck in two years reading biographies, which is my favorite thing to do. But I do like people; I do miss people."



3 Comments on "McInnis predicts he could have taken out Udall, blames far right wing of state GOP"