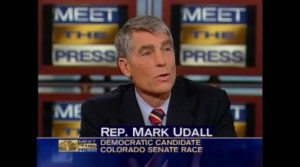 Colorado's next U.S. Senator, Democrat Mark Udall, on Meet the Press in September.
Coutesy of NBC News
Anatomy of a meltdown: how Bob Schaffer lost Colorado's U.S. Senate race to Mark Udall
By David O. Williams
November 7, 2008 — Just as the turning point in the presidential race came in September when Wall Street wavered and John McCain looked equally unsteady, Bob Schaffer's U.S. Senate campaign might have imploded later that same month in a debate with Mark Udall on "Meet the Press."

A petulant and constantly interrupting Schaffer looked unhinged and uneven as an almost maddeningly mellow Udall calmly countered a barrage of charges from the former oil and gas executive. Udall was the quintessentially chill Colorado mountain man; Schaffer seemed every bit the mean-spirited attack-dog politician.

Udall stomped Schaffer by a 54 to 45 percent margin Tuesday (with nearly 90 percent of the vote in) to give the Democrats both of the state's Senate seats and for the time being give his party a shot at the 60 Senate seats needed for a filibuster-proof majority. The Dems picked up eight seats and led 57 to 40 with three seats -- Alaska, Georgia and Minnesota -- still undecided as of Friday.

Sounding a conciliatory note in his victory speech Tuesday, Udall, who was endlessly hammered by Schaffer throughout the campaign as a "Boulder liberal," promised to practice the "politics of decency" moving forward. Joining his cousin, Tom Udall of New Mexico, in the Senate, Mark Udall's win marks the first time since the 1970s Democrats have occupied both Colorado Senate seats.

Asked for a one-word description of Schaffer's debating style during their final clash in late October, Udall said simply "rude," but then expanded on his opponent's unwillingness to listen to different ideas. In an earlier interview with RealVail.com, Udall said his strategy of calm engagement with Schaffer on "Meet the Press" was purposeful.

"I've seen a lot of different Bob Schaffers, and I made a decision on the spot to be respectful, to be thoughtful and to show the people watching that the Senate needs more people who are going to listen and work together than it needs people who are going to filibuster and shout," Udall said.

But Schaffer's undoing could have come much earlier in the race after he held up the guest-worker program in the U.S. Commonwealth of the Northern Mariana Islands as ideal when, in fact, conditions there have long been widely criticized amid reports of slave labor, prostitution and women forced to undergo abortions. While he was in Congress, Schaffer and his wife traveled to the Marianas Islands on a junket that was at least partially arranged by since-jailed lobbyist Jack Abramoff.

Or perhaps it was in early August that things started coming unglued for Schaffer. That was when his college-student son Justin's Facebook page made national headlines because of its overtly racist content, a picture of Barack Obama made to look like Osama bin Laden and messages like "Slavery Gets Shit Done."

Then there was the rather nasty infighting in the state Republican Party that bubbled to the surface a week before the election. Former six-term Republican Scott McInnis, who had previously said he bowed out of the Senate race purely for family reasons, told RealVail.com he could have beaten Udall but had serious problems with the far right of his party.

In a follow-up story with the Denver Post, the more moderate McInnis said he was forced out of the race by a small core of far-right party operatives and added that state party chair and Schaffer campaign manager Dick Wadhams had too much on his plate to avoid what he accurately told the Independent would be a GOP bloodbath on Tuesday.

Initially gracious in his concession speech to Udall, the combative Schaffer was back in a later interview with 9News Tuesday night. Asked specifically about criticism that Wadhams bit off more than he could chew, Schaffer fired back, "I've not heard that from a single serious commentator.

"They swamped us with money; a lot of money buys a lot of votes. This state took a giant leap to the left," Schaffer said. "The real challenge is to get the brand back; we need to stand our conservative centrist ground."

He also said the party needs to remember there are "only" 730 days until the next election, alluding to a possible run when Sen. Ken Salazar's seat is again up for grabs. But Schaffer has now come up short twice in Senate bids, losing in a primary to Peter Coors in 2004, and the party may be looking for more moderate and even-keeled candidates in 2010.

1 Comment on "Anatomy of a meltdown: how Bob Schaffer lost Colorado's U.S. Senate race to Mark Udall"