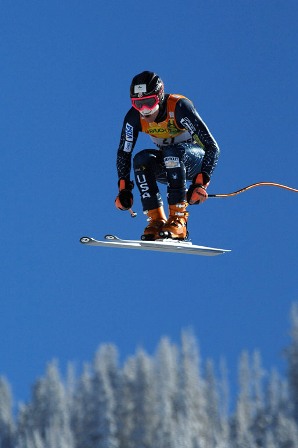 Fresh-faced Ted Ligety of Park City, Utah, shown here sailing off a jump on Beaver Creek's Birds of Prey run in November of 2006, would be a grizzled U.S. Ski Team veteran should the Vail Valley Foundation land the World Alpine Ski Championships in 2013.
Dan Davis
trekkerphoto.com
Going for the trifecta
Rounding up what passes for news around the Valley
By David O. Williams
May 1, 2007 — There will be no mini-Olympic bids for Vail and Beaver Creek this time around.


Spearheaded by the Vail Valley Foundation and with the backing of the U.S. Ski and Snowboard Association, the two resorts in early May threw their hats into the ring for the 2013 Alpine World Ski Championships.


Hosts in 1989 and '99, Vail-Beaver Creek first went for the trifecta in bidding for 2009 but lost out because of its innovative plan to include the world snowboarding and freestyle skiing championships.


The stodgy bureaucracy of the International Ski Federation (FIS) couldn't handle such a radical concept (of being actually interesting to American spectators) and denied the bid.


Now Vail-Beaver Creek is just going for the alpine worlds, this time competing against Schladming, Austria, St. Moritz, Switzerland, and Cortina d'Ampezzo, Italy. A decision is expected in the spring of 2008.

Home rule hammered a second time

Eagle County did a special-election double take … and went down in flames … again.


Home rule, which sounds vaguely Medieval but basically would have increased the number of county commissioners from three to five and made it easier for citizens to force issues to a public vote, was defeated May 1 for the second time in six months.


State law allowed the question to be put on the ballot again - to the dismay of a vocal few - and it was a little closer this time around (52 to 48 percent), but now the measure seems to have gasped its last breath.

No TV cameras this time around

The reality of sleep-deprivation hit the Avon home of local reality TV stars Ryan and Trista Sutter July 26 when the couple welcomed their first baby. Maxwell Alston Sutter, 5 pounds, 3 ounces, was born at the Vail Valley Medical Center.


Ryan Sutter, a former University of Colorado football player and now a firefighter at the Vail Fire Department, met and married Trista Sutter on ABC's "Bachelorette" TV show several years ago.
Doggy duty

As rags to riches stories go, the tale of Little Bachelor is a particularly heart-wrenching one. Found wandering the streets of downtown Denver, Little Bachelor is now the official Labrador retriever of the Ritz-Carlton Bachelor Gulch.


Little Bachelor assumes the duties of the original Bachelor, who was bumped upstairs by a corporate promotion (actually his owner was), and those duties include being walked by hotel guests, loved by countless children, and stuffed full of doggy treats. Good work if you can get it.

Edwards looks to Libeskind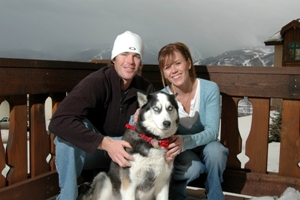 Ryan and Trista Sutter, seen here with their dog Natasha, have added a new member to their reality-based family in Wildridge: baby boy Maxwell Alston Sutter.


Edwards developers Remonov & Company hired renowned architect Daniel Libeskind in a bid to create a signature building for the down-valley town's downtown core. Remonov wants the widely praised but sometimes pilloried architect to put Edwards on the map with 56 eye-catching condos.


Libeskind got mixed reviews for his 2006 design of the Denver Art Museum expansion and the adjacent Museum Residences, even making some museum patrons a bit queasy with his use of sharp angles and seemingly impossible lines.


He first made a splash with his designs of the Jewish Museum in Berlin and the Imperial War Museum North in Manchester, England, both completed in 2001, and then grabbed headlines as the winner of a competition for the replacement of the World Trade Center at Ground Zero in Manhattan. Now he's tackling downtown Edwards, hoping to give the "family-style" ski town an iconic structure to visually punctuate its post-modern downtown core.


Kildow comes through

Vail-based World Cup ski racer Lindsey Kildow finally appeared to have exorcised all the demons that have plagued her in big events such as the Olympics and the World Championships, claiming a pair of silver medals at the Worlds in Are, Sweden, in February.


It was sweet vindication for the Ski Club Vail product who so famously crashed during a training run at last year's Olympics in Italy and was briefly hospitalized but recovered enough to compete. But the pre-Olympic medal favorite failed to get on a podium. She also just missed medals at the 2005 Worlds, also in Italy, coming home with a pair of fourths.


So the two silvers in February went a long way toward easing the pain of some of her past disappointments in big events, and with three regular World Cup wins up to that point last season, the 22-year-old was in contention for the overall World Cup title.


Then she suffered a knee injury in a training run at Worlds and missed the rest of the season. Still, she was philosophical about the injury, vowing to come back strong next season and always keep her sights on the 2010 Olympics in Vancouver, British Columbia.


Bode goes big at the Beav'


Bad boy Bode Miller, on the other hand, started off the season strong, saying in Vail that he wanted to shatter the single-season World Cup victory mark of Ingemar Stenmark (13) and thereby easily surpass Phil Mahre's U.S. career wins mark of 27.


Such a season would have done a lot to win back a fickle fan base disillusioned by his winless showing at last year's Olympics and controversial statements about skiing and drinking.


Miller started strong with a downhill win on the Birds of Prey course at Beaver Creek in December, a race in which Utah's Steve Nyman was third, but then Miller faded down the stretch, winding up with "just" four wins and falling two short of tying Mahre's mark.


He capped off the season saying he wouldn't race in the 2010 Games because the Olympics puts too much emphasis on winning and because 2006 was such a terrible experience.

How to get on Oprah

Win an Olympic mogul-skiing medal after being adopted from a Korean orphanage by Vail ski instructors. Then reunite in South Korea with your long-lost father and brother after the Olympic spotlight illuminates countless candidates in your quest for your birth parents.


That's the path 28-year-old Toby Dawson took to the Oprah Winfrey Show in April – a month that also saw him get married to Leah Halmi in the Palm Springs, Calif., area, where he's pursuing a new athletic career as a pro golfer.


Dawson, raised in Vail by Deborah and Mike Dawson, saw his Olympic dreams come true on the moguls course at Sauze d'Oulx, Italy, last year when he claimed a bronze medal in the grueling event.


The ensuing publicity, especially in South Korea, brought possible parents out of the woodwork, but Dawson insisted on DNA testing that finally paid off when his birth father, Kim Jae-su, was identified.


Kim explained that Dawson's mother lost him as a toddler in an open-air market and that police took him to an orphanage far from the family home, thwarting repeated attempts to find the boy. Dawson has established a foundation to help locate birth parents of South Korean orphans.

Remembering a Vail legend


If you're a skier – and the late Gerald R. Ford was an avid one for years – there's no higher honor than having a run named after you. The former president, who helped put Vail on the map in its formative years and later built a home in the new resort of Beaver Creek, now has two runs named after him.


Ford, who died in December at the age of 93, will be remembered in Vail by the renamed lower section of Giant Steps, which is now called "38." The 38th president, who succeeded Richard Nixon in the wake of the Watergate scandal, will also forever have his name on the old Pitchfork trail at Beaver Creek, which runs past his former home in Strawberry Park and will now be known as "President Ford's."


And it took an act of Congress, but the Vail Post Office will also be renamed in honor of the man who left a lasting mark on the Vail Valley, from the Gerald R. Ford Amphitheater to Vail's Ford Park to the many charitable organizations he and his wife, Betty, supported throughout the years.

Keeping an eye on the competition

Out of one competing resort and into another – this one much closer to home.


Vail Resorts sold the Snake River Lodge and Spa in Jackson Hole, Wyo., for $32.5 million in December, removing one 88-room luxury property from its stable of high-end hotels at the bottom of some of world's best ski areas.


But the company's RockResorts lodging brand made up for the (profitable) loss in April when it acquired the management contract for the historic 92-room Hotel Jerome in Aspen – the longtime rival of Vail for top billing among Colorado's ski resorts.

Keeping construction costs down

Be the first on your block to finish your revitalization project.


Rave reviews are starting to pour in for some of the latest, and thus far most significant, lodging, residential and commercial projects to be completed as part of Vail's billion-dollar (plus, plus) New Dawn reconstruction boom.


Vail pioneers Bob and Diane Lazier's new-look Tivoli Lodge opened in the fall and enjoyed a booming first season near the base of Golden Peak. Its revamped, high-end rooms and spectacular new lobby were the talk of the town last season.


One Willow Bridge Road in the heart of Vail Village - a mix of shops, fractional units and wholly-owned condos – opened in the spring to equally critical acclaim.


Just across Meadow Drive, the Vail Plaza Hotel and Club is nearing completion, and demolition of the adjacent Crossroads complex was completed in June, making way for the shops and condos of Solaris.


Other projects on track include the nearby Four Seasons, Vail's Front Door near the base of the Vista Bahn, Arrabelle at Vail Square in Lionshead, and a slew of other renovations or complete teardowns.


The old cliché, "there are two seasons in ski towns, ski season and construction season," has taken on a life of its own in Vail.

Worst way to bump into someone on the mountain

Meanwhile, another solid if unspectacular snow year in 2006-07 brought plenty of snow riders to Vail and Beaver Creek – a good thing for the ringing of local cash registers but not always conducive to harmony on the hill.


In April, a 22-year-old snowboarder who collided with an 8-year-old girl and fled the scene after being punched by the girl's father, pled guilty to harassment. He was found in a local bar and admitted to having a few drinks before the collision.


That was perhaps the worst example of on-mountain carnage last season, but numerous ski instructors and other snow riders reported a sharp increase in hit-and-runs and just plain unsafe riding on the local mountains.


Resort officials vowed to raise safety awareness and keep up the heat with yellow jacket and regular ski patrol presence.



Comment on "Going for the trifecta" using the form below