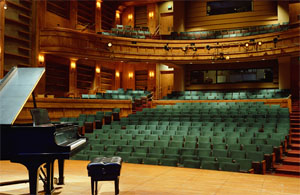 The Vilar Performing Arts Center (VPAC) was one of a very few institutions which saw Alberto Vilar's philanthropic pledges come to complete fruition.
vilarpac.org
vilarpac.org
Vilar found guilty, what now for Beaver Creek performing arts center?
By Tom Boyd
November 20, 2008 — Philanthropist and investor Alberto Vilar, who gave about $7 million toward the creation of the Vilar Performing Arts Center in Beaver Creek, was found guilty on all counts of conspiracy and securities fraud by a federal jury in Manhattan Nov. 19.

"It's very sad," Harry Frampton, Vail Valley Foundation board member, told the Rocky Mountain News.

Vilar was well-known for his philanthropic efforts, including pledges of millions to the Metropolitan Opera, the Ford Amphitheater, and the National Jewish Medical and Research Center in Denver, among other institutions.

Vilar's name was infamously removed from the top tier of the Metropolitan Opera when he failed to make due on his pledges, yet he followed through with the Vail Valley Foundation on his effort to build the performing arts center here, and his name is still emblazoned on the Vilar Center for the Arts moniker in Beaver Creek.

The result of Vilar's philanthropy in Beaver Creek was on display last night as a near-capacity audience filled the Vilar Center for a performance from "The Australian Pink Floyd Show."

The Vilar Center has continually brought big-name acts to small-town Beaver Creek, including a performance Nov. 20 from Emily Saliers of the Indigo Girls, Sugarland, and Amos and Lee: "Common Thread".

The venue has also played a critical role in hosting the world-renown Vail International Dance Festival and Bravo! music festival.

Officials from the Vail Valley Foundation said they haven't yet discussed whether or not they will keep the Vilar namesake for the Beaver Creek performing arts center.


1 Comment on "Vilar found guilty, what now for Beaver Creek performing arts center?"