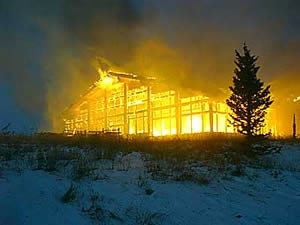 Two Elk Lodge burned to the ground after members of "The Family," conspired to set it ablaze in protest over the Blue Sky Basin expansion ten years ago.
Photo courtesy Mark Mobley
FBI offers $50,000 reward in connection with Vail arson case
By Tom Boyd
November 20, 2008 — The FBI and the ATF have re-ignited the hot pursuit of the people involved in the Vail arson fires, offering a $50,000 reward for information on the four remaining members of "The Family" who were involved in planning the fires which destroyed Two Elk Lodge and several chairlifts ten years ago.

Joseph Mahmoud Dibee, Josephine Sunshine Overaker, Rebecca J. Rubin, and Justin Franchi Solondz are the only four of 17 indicted eco-terrorists who have escaped arrest since the group disbanded in 2001.

The four were members of the Oregon-based group known as "The Family," which planned and executed the $12 million fire. They claimed the act was in defense of the Canada lynx, and endangered feline known to have lived in the Vail area. The group was protesting the 885-acre ski expansion now known as Blue Sky Basin.

Chelsea Gerlach and William Rodgers were arrested in a sweep of more than a dozen suspected ELF members in 2005, and in later court proceedings it was revealed that Gerlach helped Rodgers pull off the Vail arsons, waiting for him at a trailhead while he set the blazes.

Rodgers killed himself in prison in 2006, while Gerlach is serving a nine-year sentence in federal prison.

Dibee, Overaker, Rubin and Solondz are wanted for their role in planning the Vail arsons as well as for their role in a series of at least 25 arsons perpetrated by The Family which caused approximately $48 million in damage nationwide.

Information on the four fugitives can be directed to the FBI at www.fbi.gov.


Comment on "FBI offers $50,000 reward in connection with Vail arson case" using the form below