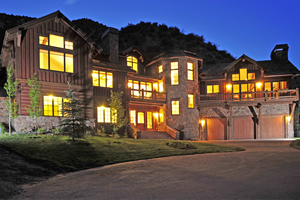 Sonnenalp Real Estate is teaming up with the Salvation Army for a county-wide coat drive at McCoy Springs in Arrowhead.
Photo courtesy of
sonnenalprealestate.com
Cocktails and coat drive at McCoy Springs in Arrowhead will help keep holidays warm
Sonnenalp Real Estate teams up with the Salvation Army to help collect coats for the needy
By realvail.com
November 25, 2008 — Local Vail Valley real estate company Sonnenalp Real Estate and Eagle County's Salvation Army are teaming up together to keep Eagle County warm this holiday season.

Saturday, Nov. 29, Sonnenalp will host a "Cocktails & Coat Drive at their McCoy Springs home listing in Arrowhead.

"The unique cul-de-sac of contemporary homes offers a perfect location for people to view this incredible property, as well as feel good about giving back to their community," said Joni White Taylor, President of Sonnenalp Real Estate, who also contributes time to the board of the Salvation Army.

The two homes will be open for touring on the Saturday after Thanksgiving from 4 to 7 p.m. and will offer guests hors d'ouvres, graciously provided by Matthews Restaurant in Edwards and wine that has been generously donated by Doug Tisdale, Esq.

"In a time like this where the economy is challenged, we must group together in creative ways to help one another," commented Sonnenalp Real Estate broker and co-host of the event, Linda Miner.

Donations of a coat, can or toy are welcome at the event, but are not essential to attend. For more information or to RSVP, call (970) 477-5300.


Comment on "Cocktails and coat drive at McCoy Springs in Arrowhead will help keep holidays warm" using the form below