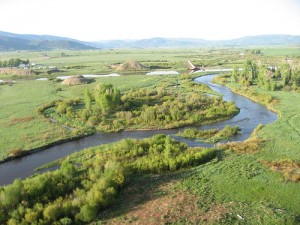 The Yampa River in Northwest Colorado is one of three singled out by a recent report as being in danger if the state's oil shale industry kicks into high gear.

Report concludes oil shale boom would put too much pressure on Northwest Colorado rivers
By David O. Williams
December 2, 2008 —
The Bush administration and the Bureau of Land Management are pushing relentlessly ahead with plans to fast-track Colorado's long-dormant oil shale industry, but a study released this fall exposes one factor that could put a big damper on the boom: a serious lack of water.

The report, prepared for key government and private water stakeholders in the area, says that northwest Colorado rivers can supply enough water to meet the growing demands of the natural gas, coal and uranium industries, but unproven oil shale production technology would "require tremendous amounts of water" that might not be available.

The practical importance of water to the goal of extractling oil from shale is often overshadowed by the dream of tapping into a vast new source of energy. Studies show the Green River Formation of western Colorado contains between 1.5 trillion and 1.8 trillion barrels of recoverable oil trapped in sedimentary rock and sand. That's more than four times the proven liquid oil reserves in all of Saudi Arabia.

But the process of extracting oil from rock require enormous amounts of water and power, as well as the refining and transportation infrastructure needed to get the oil to market. So far no oil company has been able to efficiently heat kerogen — the organic material that releases oil — in the sedimentary rock on a large enough scale for commercial production.

"A dominant finding is oil shale development, along with its associated power production, could require tremendous amounts of water, up to 378,300 acre-feet annually," concludes the Energy Development Water Needs Assessment, which was funded by grants from the Colorado Department of Natural Resources and the Colorado Water Conservation Board.

An acre-foot is the amount of water needed to cover one acre a foot deep in water, or about 325,851 gallons. If the report's estimate is accurate, oil shale development in Colorado would consume 123 billion gallons of water a year.

Proponents of oil shale production, which was just gearing up on Colorado's western Slope in the early 1980s when the industry went bust, say technology has improved dramatically and requires much less water and power. But incoming Democrats such as newly elected Sen. Mark Udall have vowed to try to reinstitute a commercial leasing ban allowed to expire by Congress this fall.

"In a nutshell, the energy industry in Colorado will need a lot of water, but it's manageable — with the exception of the speculative oil shale part of the equation," said water consultant Caroline Bradford, the former director of the Eagle River Watershed Council, an organization devoted to preserving that tributary of the Colorado.

Besides water consumption issues, the report also concludes that the oil shale industry would also consume an inordinate amount of energy

"In either a moderate or high production scenario in the mid-term or long range, they'll need to build 14 more huge (Craig-sized) power plants to produce the energy needed to produce the energy, but nobody knows if oil shale will really happen or not," said Bradford, referring to the state's largest power plant, Craig Station.



1 Comment on "Report concludes oil shale boom would put too much pressure on Northwest Colorado rivers"