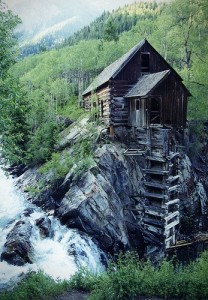 The Lost Horse Mill on the Elk Mountain Range's Crystal River near Marble, Colo. -- a rare bit of historical development in a largely roadless area.
Rob Lee
Flickr.com
Bush administration pushing for controversial Colorado roadless rule by Jan. 16
By David O. Williams
December 3, 2008 — The Bush administration appears to be charging even harder down the road to a new Colorado roadless rule despite a meeting of a U.S. Forest Service advisory group in Washington earlier this month that revealed numerous problems with the plan.

This is the Bush administration's last chance to implement its vision of how to administer pristine forest and park land. While in the Senate, President-elect Obama opposed the Bush administration's plans for roadless areas.

A top U.S. Department of Agriculture official reportedly told a Nov. 19 meeting of the U.S. Forest Service's Roadless Area Conservation National Advisory Committee (RACNAC) that the goal is to have a final Colorado roadless ruled published in the Federal Register by Jan. 16.

"We have heard through channels that the Forest Service is trying very hard to get this thing out the door before the end of the Bush administration, which would make it arguably a little harder for [president-elect Barack] Obama to reverse," said Rocky Smith of the nonprofit conservation group Colorado Wild. "We, of course, want a national rule, and any rule, whether it's a state rule or a national rule, has to be a hell of a lot better than the draft Colorado rule."

Smith and others have repeatedly objected to numerous exceptions for logging, oil and gas production and ski-area expansion in the Colorado roadless rule. The rule dictates the management practices for 4.4 million acres of public lands throughout the state that have been designated as essentially pristine and untrammeled by not only roads but development in general.

Environmental groups have been fighting for nearly eight years to reinstate the federal Clinton administration roadless rule that was quickly cast aside by the Bush administration in 2001. The Clinton rule has been batted about in court for years, most recently suffering a setback in a Wyoming district court, which ruled the Clinton administration didn't conduct proper public scoping while drafting its rule in 2000. That decision is currently under appeal.

Several years after suspending the Clinton rule, which set fairly strict standards for protecting about 50 million acres of roadless public lands nationwide, the Bush administration enacted a process by which states could petition the Forest Service to draft their own rules. Only Idaho and Colorado did so.

In October, Idaho finalized its roadless rule, which more closely parallels the Clinton rule, but the Colorado rule allows for "long-term temporary" roads to be built in areas where more than 100 oil and gas leases were issued after the suspension of the Clinton rule.

The Colorado rule also would permit roads deep into heavily timbered areas to allow logging for wildfire mitigation. Most local governments and environmental groups agree that such work should be done closer to endangered communities.

"There's a lot of concern that the proposed rule and draft environmental impact statement allows excessive cutting a long ways away from communities, which could potentially impact roadless area characteristics and the experiences that folks have in those places," said Joel Webster, roadless manager for the Theodore Roosevelt Conservation Partnership, a coalition of sportsman's groups that objects to the removal of 520,000 acres from the state's roadless inventory under the proposed rule. "If we're going to be protecting communities, we need to do that near communities where people actually live."

Webster argues that fast-tracking the Colorado roadless rule before fixing all of its loopholes will lead to unnecessary conflict in the future.

"The real concern is that if this thing is done four days before the inauguration of the next president, there's going to be a lot of controversy around this process because people are going to think it's a last-minute land grab," Webster said.

Smith noted that Obama co-sponsored an unsuccessful bill in the U.S. Senate that would have reinstated the Clinton roadless rule, so the new president appears motivated to protect federal roadless areas.

"It's very possible, although Obama is going to be very busy with the economy his first 100 days, that a [national roadless] bill could pass the Congress and be signed into law by the president, and it complicates the situation if we have a final Colorado rule out," Smith said. "So we're trying hard to ensure that that rule does not become final."

The state decision to petition the Forest Service for a Colorado rule began under the Republican administration of former Gov. Bill Owens but was continued by the Democratic administration of current Gov. Bill Ritter because of concern that the Clinton roadless rule would ultimately be tossed out and the state would not control its own roadless destiny.

Smith said it's his understanding that the state's Department of Natural Resources wants more time to work out the kinks in the Colorado roadless rule before it's finalized. Mike King, deputy director for the Colorado Department of Natural Resources, did not immediately return a call requesting comment.

Webster urged the Ritter administration to push the Forest Service to slow down the state's roadless rule process. A Forest Service public affairs specialist did not immediately provide comment for this story.


Comment on "Bush administration pushing for controversial Colorado roadless rule by Jan. 16" using the form below