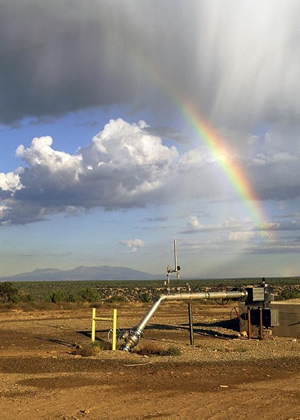 Environmental groups Tuesday announced their intent to sue the BLM over so-called "midnight" leasing regulations pushed through by the Bush administration
Photo courtesy of Bureau of Land Management Colorado field office
Conservationists may sue BLM over last minute oil shale rule
Groups claims oil shale production could violate Endangered Species Act
By David O. Williams
January 7, 2009 — Even as Republican state lawmakers gear up to make Colorado a more oil-shale-friendly business climate, a group of national and regional environmental groups Tuesday announced their intent to sue the federal Bureau of Land Management over so-called "midnight" leasing regulations pushed through by the Bush administration.

A group that includes the Center for Biological Diversity, Colorado Environmental Coalition and the Sierra Club Tuesday sent a notice of intent to sue to outgoing Secretary of the Interior Dirk Kempthorne and U.S. Bureau of Land Management Director James Caswell outlining alleged violations of the Endangered Species Act.

Specifically, the groups contend the BLM's 11th-hour rule making, which set royalty rates oil companies would have to pay the federal government for oil shale production on public lands, should have included the U.S. Fish and Wildlife Service because of the potential impacts to the habitat of endangered and potentially endangered species.

The groups gave the BLM 60 days to adequately address the alleged violations of the Endangered Species Act before filing a lawsuit in federal court.

Full-scale commercial oil shale production, which could occur on millions of acres of BLM land in Colorado, Wyoming and Utah, is still at least a decade away, most experts say, because the technology to extract oil trapped in sand and shale rock is still largely experimental and unproven. And current processes require a huge amount of water and power, meaning oil prices would have to come up dramatically to make oil shale production financially feasible.

"One of the fascinating things to see is to see the Denver Water Board complain to the BLM that the water board has to balance the needs of endangered fish in the North Platte and the Colorado River against the water that they're pulling from those watersheds for people to drink along the Front Range," said Ted Zukoski, staff attorney for the Denver office of Earthjustice, a nonprofit public interest law firm focused on environmental issues.

"If it takes three barrels of water to produce one barrel of oil and Shell's buying up all the water on the Western Slope, there isn't going to be enough for everybody else," added Zukoski, whose organization represents the environmental groups.

Water in the West is nearly as hot a commodity as oil and natural gas, and some say that preserving the former while producing the latter is problematic — a situation that will be worsened by greenhouse gas emissions and global climate change.

"It's going to get worse for at least two reasons," Zukoski said. "One is our population is still growing, so the residential needs are going to go up, and it's going to be drier here. So you've got increasing demand and reduced supply. That's a double whammy not just for the fish but for people who like to fish and enjoy streams and the wildlife they support."

Still, some GOP Colorado lawmakers recently announced plans to introduce legislation this session to accommodate oil shale production. Newly elected Sen. Al White, R-Hayden, said he would like to see a bill passed creating a task force to regulate the industry on a state level.

And Rep. Kevin Lundberg, R-Berthoud, wants to create incentives for oil shale exploration and production by reducing the severance tax oil companies would have to pay the state for extracting oil from the shale rock and sand.

"(It's) an incentive by discounting the oil shale severance taxes through the year 2020 if any company will start to develop a commercial program by 2012," Lundberg told the Associated Press.

Glenn Vawter, executive director of the National Oil Shale Association, told AP Colorado lawmakers are on the right track. "I think any encouragement at the state is helpful," he said. "I think right now with oil prices the way they are there's a lot of people thinking Utah is a better place to do business, shall we say."

But Earthjustice's Zukoski said Congress and the Obama administration may make such actions by state lawmakers a moot point. Obama could engage in new rule making that would override the BLM's new leasing regs, or Congress could utilize the Congressional Review Act to rescind the new regs if the Obama administration agrees.

Obama's pick for secretary of the interior, Colorado Sen. Ken Salazar, has been an outspoken critic of going too far down the road toward full-scale oil scale production before the technology is perfected and environmental concerns are fully addressed.

Comment on "Conservationists may sue BLM over last minute oil shale rule" using the form below