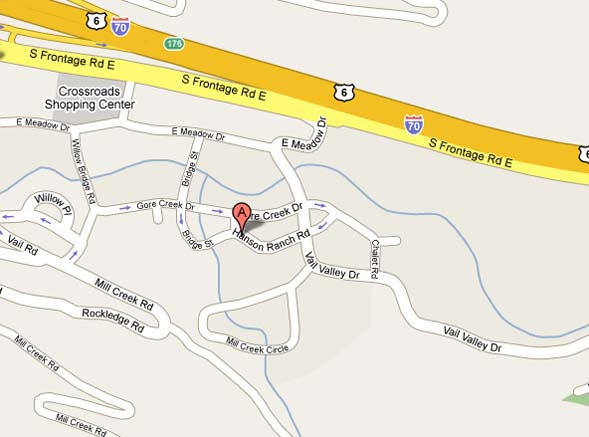 Vail police suspect James Blanning in two unsolved bank robberies which occured at the WestStar (now USBank) location marked by the "A" above.
google maps
google.com
Aspen bomber suspected in Vail's unsolved WestStar bank robberies
By realvail.com
January 9, 2009 — Vail Police are pursuing new evidence in the unsolved Vail WestStar bank robberies from Dec. 25, 2005 and July 3, 2006.

James Blanning, the deceased suspect in the New Year's Eve bank robbery and bombing attempts in Aspen, has been identified by Vail Police as a prime suspect in the two unsolved Vail bank robberies.

Vail Detective Sgt. Craig Bettis immediately noticed similarities between the suspect in the surveillance photos from the Vectra Bank in Aspen, released on Dec. 31, 2008, and the surveillance photos from the July 2, 2006 WestStar bank robbery in Vail.

Following the 2006 robbery at the WestStar bank facility at 302 Hanson Ranch Road, investigators indicated the suspect may have been the same individual who robbed the same bank in 2005. In both cases, the man used a note announcing the hold up and descriptions of the suspect were similar. The suspect was described as a white, middle aged male, approximately 5'8" to 5'10" tall, medium build, wearing sunglasses and white gloves at the time of the robberies.

The WestStar bank facility also was the scene of a robbery on March 21, 2005, which resulted in the arrest and conviction of two men.

Investigators from Vail Police, Aspen Police and the FBI continue to investigate Blanning's involvement in the unsolved West Star bank robberies in Vail.


Comment on "Aspen bomber suspected in Vail's unsolved WestStar bank robberies" using the form below