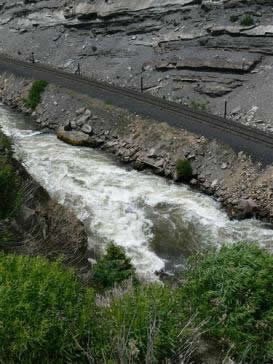 Already a pretty cool place, the Eagle River near Avon could get a bit cooler under a new wastewater heat recovery program.
Flickr/scottmindib
Avon, water district come together to save state grant for using wastewater to heat streets, pool
Project held up by governor's office as example of his New Energy Economy
By David O. Williams
January 23, 2009 — Town of Avon officials and the local water district board came together Thursday to salvage a $1.5 million state grant for what's been described as an "ingenious" system to use heat from wastewater treatment plants to melt snow on downtown streets and warm the recreation center pool.

According to some officials, the grant, part of Gov. Bill Ritter's New Energy Communities Program, was endangered by a funding squabble between the town and the Eagle River Water and Sanitation District (ERWSD).

District community relations manager Diane Johnson said about 30 people packed the ERWSD's tiny boardroom in nearby Vail, apparently energized by the innovative nature of the proposal. The process in the proposal is called "heat recovery." Essentially, that means distributing the excess energy created in the wastewater treatment process and returning slightly cooler water to the Eagle River.

That's seen as a big plus by local environmentalists who say warmer temperatures in the river have an adverse effect on fish and other aquatic life, especially at low-flow times of the year such as late summer and fall.

The Ritter administration provided one of the larger grants in the New Energy Communities Program -– the maximum is $2 million -– because it wants the project to serve as an example for other communities. The process saves fossil-fuel consumption for needed public works and also reduces the river's temperature and the town's overall carbon footprint.

Johnson said several board members seemed swayed by those arguments, although they remained committed to their current funding level of $332,400 and did not agree to increase that amount to $740,000, as requested by the town.

"That said, it leaves the door open to find creative solutions to bridge the funding gap, or for [the district board] to increase dollars somewhat — a few of them said they may consider increasing it — along with creative solutions," Johnson said.

The board directed its general manager and chairman to meet with the town manager and mayor as early as next week to hash out a solution. After originally committing to a 60-40 split on the project, the district board came in at a lower amount because engineering studies showed the benefits for the district did not equate to 40 percent of the project not being funded by the state.

The state grant is a use-it-or-lose-it proposition with an October deadline.

Comment on "Avon, water district come together to save state grant for using wastewater to heat streets, pool" using the form below