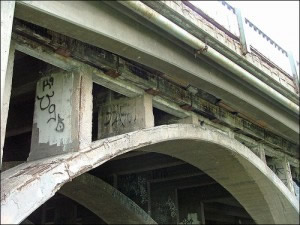 Spans like the Lakewood Gulch Bridge are crumbling at an alarming rate across Colorado.
Flickr photo courtesy of Jeffrey Beall
Vail's state senator says stimulus money won't fix Colorado's crumbling roads, bridges
Sen. White critical of package that merely makes up for lost federal highway dollars
By David O. Williams
February 3, 2009 — The version of the economic stimulus bill currently being considered by the U.S. Senate contains nearly $14 million more in transportation infrastructure funding for Colorado than the version passed last week by the House, according to an analysis by the Colorado Department of Transportation (CDOT).

Calling the final figure "a moving target," CDOT spokeswoman Stacey Stegman on Monday provided an analysis that showed the Senate version would make available $425.7 million for state transportation infrastructure projects, while the House version comes in at about $412 million.

Regardless, one state lawmaker said it isn't enough to make a difference in Colorado, where 126 bridges have been deemed structurally deficient and the state's engineers recently gave transportation infrastructure a near-failing grade of D+.

"Our federal funding was anticipated to be down about $400 million," state Sen. Al White, R-Hayden, who sits on the powerful Joint Budget Committee, told the Colorado Independent. "Now they're throwing us $400 million and asking us to feel grateful for it. So all they're doing is returning the dollars that we would have had under last year's funding, so it's not a big windfall at all."

Much of the stimulus money is "use-it-or-lose-it" funding that must be obligated to specific projects within 180 days or it goes to states with "shovel ready" road and bridge projects that qualify. CDOT has compiled a statewide priority list of projects that can hit the ground running.

But there is a growing chorus of criticism in the U.S. Senate that not enough money is devoted to transportation infrastructure spending. The House version calls for $30 billion in spending on highway projects, while the current Senate version comes in at $27 billion.

According to The Washington Post, there's a bipartisan push in the Senate Public Works Committee to amend the bill to include another $5.5 billion in highway construction funding. The Post reports labor unions back that measure and generally would like to see an increase in infrastructure funding.

Another amendment would take approximately $50 billion from the estimated $280 billion that won't be spent until 2011, according to the Congressional Budget Office, and put that money toward highway construction.

Meanwhile, a group of banks and private-equity firms last month made its case for more public-private partnerships on the infrastructure front. The Wall Street Journal and Reuters reported that a coalition including Morgan Stanley and Credit Suisse has released a report indicating some $180 billion in private capital could bolster federal stimulus spending on transportation infrastructure.

But some Colorado counties and municipalities may be leery of such arrangements given ongoing controversy over contracts handed out to private companies for management of tolling on publicly funded projects such as the Northwest Parkway.

And the state Legislature isn't waiting for Washington to provide much of a long-term fix for the annual $500 million shortfall in funds to repair and maintain the state's current system of roads and bridges.

Dan Gibbs (D-Silverthorne) is pushing ahead with a senate bill aimed at providing $200 million a year through increased vehicle registration fees. So far that approach is not meeting with a great deal of Republican support.

Comment on "Vail's state senator says stimulus money won't fix Colorado's crumbling roads, bridges" using the form below