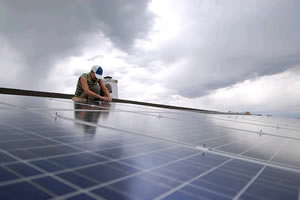 Solar arrays are cropping up all over Colorado, like this one atop the high school in Antonito in the southern part of the state.
Courtesy of Flickr/GwendolynTrue
Stimulus funds may save renewable-energy sector in Vail Valley and across Colorado
Industry rapidly gaining legitimacy and rising above political fray
By David O. Williams
February 18, 2009 — Never has the partisan nature of the renewable energy debate been more on display than it was Tuesday during the historic Denver signing of President Barack Obama's $787 billion stimulus package.

A packed house of handpicked Democrats eagerly applauded every clean-energy reference in the American Recovery and Reinvestment Act, Obama's first major step as president and legislation that's hoped to continue Colorado's four-year ride on the renewable-energy bandwagon.

While Republican critics were in short supply, relegated to a nay-saying confab on the state Capitol steps, it is clear that Democratic Gov. Bill Ritter's "New Energy Economy" faces stiff political opposition in coming years.

Obama said Tuesday the stimulus bill will double the amount of renewable energy produced in the United States in the next three years. Now, experts in Colorado's renewables sector say, the industry may finally be on the verge of long-term viability, especially if and when the political winds shift again.

"This is a growing business, and at some point either in Colorado or in the country there will be another change of administration, and we're going to find out," said University of Denver professor Frank Laird, an expert in public policy in alternative energies.

Of the more than $100 billion in stimulus money devoted to clean energy projects nationwide, Colorado is expected to see more than $130 million in direct spending, as well millions more in tax credits and research grants.

Laird said that money will definitely keep Colorado on track to become even more of a player in the wind, solar and biofuel industries, especially at a time when private-sector funding is drying up because of the ongoing credit crunch.

At a certain point, he added, the renewables industry will become so well established it will move beyond partisan bickering.

"This is no longer a crunchy, granola, Birkenstock sort of industry. This is an industry with real money behind it that has grown a lot," Laird said.

"Increasingly, Republican constituencies are saying, 'This is a good business, we want to be part of it,' and the industry is well on its way to becoming more bipartisan. Could it still suffer political setbacks? Sure, but that's less and less likely as time goes by."

Laird pointed to Germany, where conservative Chancellor Angela Merkel in 2005 campaigned partially on a platform of stripping away subsidies for the nation's booming wind industry, but came to her political senses once in office and confronted by a lobby bolstered by more than 50,000 workers.

"It's now big business in Germany, it's now an export market, and it's moved beyond being this kind of political football," Laird said. "In the U.S., renewables haven't gotten there yet, but they're closer to being there than they've ever been."

The White House estimates Colorado will see 59,000 jobs – many of them in the renewable-energy sector – saved or created by the stimulus package. The state in 2004 was the first in the nation where voters chose to mandate to utilities that a certain percentage of electricity be renewable. Then it was 10 percent by 2015, but the legislature in 2007 doubled that to 20 percent by 2020.

Utilities like Xcel Energy bitterly opposed Amendment 37 in 2004, but now that company is spending $100 million to make Boulder the nation's first "smart-grid" city, with an electrical grid that can integrate small users and generators. Obama touted that fact on Tuesday.

But many Republicans say mandates and subsidies distort the market.

"Public policy meant to encourage renewable energy has often been counterproductive," said Republican state Sen. Kevin Lundberg, who built a home near Berthoud that is completely off the grid, utilizing solar and wind.

"We had so many tax credits available back in the '70s that it fostered a very unrealistic alternative-energy industry. People were buying junk because the government was paying for it and so the industry got a very bad name."

Many companies started up and then went out of business, leaving homeowners hanging, Lundberg said. He cited the example of a friend from his church who bought a house with a solar hot-water system that couldn't be serviced because the company had gone under.

The previous owner of that house, Lundberg said, was Republican U.S. Sen. Wayne Allard, who was looking to put in a photovoltaic system in a new home he's building and take advantage of a 30-percent federal tax credit.

"Well, guess what happened to the price of photovoltaics when a 30-percent tax break went into place?" Lundberg said. "The price went up 30 percent. It didn't accomplish the goal at all. When we distort the market, we often have unintended consequences."

Laird countered that the industry has come a long way since the '70s and '80s, developing infrastructure that simply wasn't in place then.

"The industry wasn't ready for a lot of commercialization subsidies in the '70s and early '80s, and it is now," Laird said.

"In fact if you lump just wind and solar together, this is a multibillion-dollar industry in the United States alone, and it's maybe tens of billions globally."

Local governments, which may benefit substantially from the clean-energy grants contained in the stimulus package, have also stepped into the fray in recent years, setting green-building standards and providing solar and wind credits above and beyond the feds.

Paul Kulas of Eagle put in a $79,000 photovoltaic system that wound up costing $32,000 after the 30-percent federal credit, a $19,000 rebate from Holy Cross Electric, the local co-op, and another $4,000 back from Eagle County.

Kulas predicted he'll recoup his investment in eight or nine years at current utility rates after eliminating his $2,800 annual electric bill and 20 percent of his annual $3,380 gas bill.

"There's just no reason why people shouldn't be doing this," Kulas said. "In my case I ended cutting the total cost of my system down by 60 percent. I expect an eight-year payback at today's energy rates, and energy rates will go up, so in reality the system will pay for itself in less time than that. I've also fixed my energy costs for the next 25 years."

Adam Palmer of Eagle County's environmental department said county credits are also available on much cheaper thermal solar systems that cost about $5,000 just to provide a home's hot water. And he confirmed that the program is funded through 2009 and won't disappear because of looming county budget cuts.

That stability in a financial crisis an is important factor at the federal level as well, Laird said.

"What's driven the wind industry absolutely insane is that the [federal production tax] credit has only been offered for a year or at most two and then it has to be renewed and then it's not renewed and everything falls apart," Laird said, "so the stimulus bill renews it for three years. Well, that's better than one, but it's short of what it ought to be."

1 Comment on "Stimulus funds may save renewable-energy sector in Vail Valley and across Colorado"